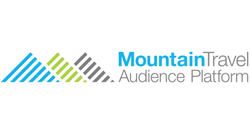 With over 45 years of history enabling the Mountain Travel experience on a global level, we now have ability to connect our partners to this premium 1st-party audience in a highly targeted way."
Boulder, Colo (PRWEB) September 07, 2016
From the leader and trusted provider of accurate and timely snow reporting and mountain travel information, Mountain News Corporation (MNC) announced the name of its new premium audience targeting advertising platform, the Mountain Travel Audience Platform.
The Mountain Travel Audience Platform is the first of its kind that connects premium brands with more 30 million highly affluent, highly engaged mountain travel enthusiasts known as Mountain Travel Consumers. These consumers engage with content that aligns with their interests, year-round.
Utilizing premium 1st-party data, the Mountain Travel Audience Platform enables advertisers to deliver targeted, personalized content and impactful digital experiences across mobile devices and the web to Mountain Travel Consumers anywhere, on and off the mountain. The combination of premium 1st-party data, creative and decades of experience provides advertisers the opportunity serve hyper-targeted, relevant ads and meet challenging revenue goals.
"We are thrilled to announce the launch of the Mountain Travel Audience Platform. With over 45 years of history enabling the Mountain Travel experience on a global level, we now have ability to connect our partners to this premium 1st-party audience in a highly targeted way", said Todd Peters, North American Sales and Advertising Director for Mountain News. "We continue to provide the most sophisticated solutions for our partners marketing needs and we are confident the Mountain Travel Audience Platform will be no exception."
The Mountain Travel Audience Platform segments include, but not limited to, global jetsetters, eco-friendly consumers, social influencers and proud parents – among the avid skiers and snowboarders.
MNC is the publisher of OnTheSnow, Skiinfo, Epicski websites and ski and snow report mobile applications, and specializes in reaching the Mountain Travel Consumer, offers partners impactful multi-channel advertising opportunities. With a global reach of more than 30 million unique visitors each year, MNC operates 26 global websites in 14 different languages and is the top provider of snow reports to more than 2,500 media outlets throughout the world, including approximately 400 news media websites.
For more information on The Mountain Travel Audience Platform and Mountain News Corporation, click here or view the video.
LinkedIn: https://www.linkedin.com/company/mountain-news
Twitter: https://twitter.com/MountainNewsCo
Facebook: https://www.facebook.com/MountainNewsCorp