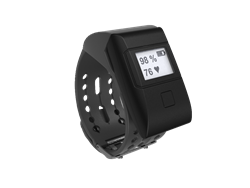 Kfar Saba, Israel (PRWEB) September 08, 2016
Oxitone Medical (Oxitone) today announced that the Oxitone 1000 wrist-sensor pulse oximeter successfully passed verification and arterial blood validation tests using multiple co-oximeters in the Clinimark Pulse Oximetry Hypoxia (Desaturation) Laboratory (Colorado, USA).
Current fingertip spot-check pulse oximeters are bulky and useful for episodic measurements only. The Oxitone 1000 is the world's first wearable pulse oximeter that gathers the main digital biomarkers including blood oxygen saturation (SpO2) directly from the wrist using a patented trans-illumination optical technology.
By replacing fingertip spot-check monitors and overnight pulse oximeters with low-cost wearable devices without annoying fingertip probes, Oxitone's technology will be a game changer in home healthcare. Oxitone's mission is to transform inefficient episodic measurements into medical grade patient continuous monitoring.
"The Oxitone 1000 elegant bracelet is a part of our end-to-end patient monitoring and management platform that transforms continuous health data into patterns, alerts, analytical solutions, and life management notifications," said Leon Eisen, PhD, Oxitone Founder and CEO.
"By unobtrusively obtaining physiological data on clients via the watch-like device, patients are monitored 24/7, their clinical status is clearly observed and noted, and variations from the norm are easily recognized. In addition to providing alarms to patients and caregivers, the platform permits seamless interaction with the clients through the smartphone/tablet, enables the caretaker/physician to advice of therapeutic changes, provides educational material and feedback, allows creation of clinic or emergency room visits if needed, and serves as an early-warning system for potential clinical deterioration or chronic disease exacerbations. As a specific example, by continuous monitoring oxygen saturation, pulse and activity level in COPD patients, COPD exacerbations can be detected early, therapeutic advice or interventions can be initiated immediately and re-admissions prevented, resulting in great savings of funds," adds Prof. Louis Shenkman, MD, Oxitone Medical Director, former Director of Department of Internal Medicine at the Meir Hospital and former Dean of the American Program at Tel Aviv University, Israel.
About Oxitone Medical Ltd.
Oxitone is a privately-held medical device company developing cutting edge wearable and mobile medical technologies. Oxitone's wrist pulse-oximetry patented technology enables automated continuous supervision of pulmonary, heart and sleep related diseases, in concert with predictive analytics and life-saving support thereby reducing costs and enhancing efficiency of outpatient care.
http://www.oxitone.com
About Clinimark
Clinimark is the leading center that tests physiological monitoring devices; airway devices; ventilators; new innovations. Based in the Boulder Colorado area, Clinimark is an independent laboratory whose purpose is to provide impartial research and clinical laboratory testing for medical device development and regulatory validation intended for the medical setting. Clinimark is actively involved with standards organizations, such as the ASTM, ISO, and IEC, working with the FDA in development of worldwide harmonized pulse oximetry standards.
http://www.clinimark.com