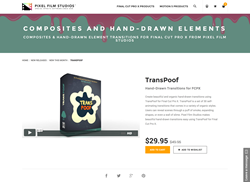 TransPoof allows editors to get creative with 30 self-animating transitions that come in a variety of organic styles
Aliso Viejo, California (PRWEB) September 06, 2016
"TransPoof allows editors to get creative with 30 self-animating transitions that come in a variety of organic styles," said Christina Austin - CEO of Pixel Film Studios.
TransPoof's minimal detail allows creators to use it in a variety of different styles. TransPoof looks stylish with solid colors and text, but it also works well with personal footage. TransPoof gives users the transitions needed, but does not overwhelm editors with stylization.
The 30 Hand-Drawn animations included in this package are spread among 6 unique styles: Shape, Goop, Smoke, Whoosh, Circle and Pop. Each style is completely different from the last. Pixel Film Studios ensures that users get the most variety possible with TransPoof for Final Cut Pro X.
To apply TransPoof, simply select a transition preset from the Transition Browser window in the bottom right corner of Final Cut Pro X. Then, have two clips ready to transition through in the FCPX timeline. Finally, drag and drop the transition between the two clips.
Once applied the transition can be edited using the Inspector window located on the right-hand side of Final Cut Pro X. The controls for TransPoof are simple. Just choose a color, flip vertical or horizontal, and add a shadow. That's it. No frills necessary.
TransPoof is a Final Cut Pro X exclusive. Making beautiful, organic, hand-drawn transitions has never been easier than with TransPoof. Users can add transitions with the drag of a mouse and all transitions are ready-to-go. There is no extra stylization necessary. Spark excitement in any production using TransPoof for FCPX.
Established in 2006, Aliso Viejo, California-based Pixel Film Studios is an innovative developer of visual effects tools for the post-production and broadcast community. Their products are integrated with popular non-linear editing and compositing products from Apple FCPX. Apple, the Apple logo, Mac OS X, and Macintosh are registered trademarks of Apple Inc. in the U.S. and/or other countries. All other trademarks and trade names are the property of their respective owners.