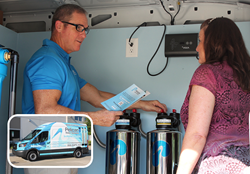 Pelican Water Launches Innovative Mobile Retail Center with In-Home Water Testing and Consultation
DeLand, Florida (PRWEB) September 13, 2016
Pelican Water Systems is excited to introduce a new in-home retail experience to customers in the greater Orlando, Florida, area. The experience is industry-leading, and promises to change how customers view water quality purchases.
The in-home sales consultations, which are available now, offer added peace of mind to consumers wanting expert guidance in selecting and installing their home water filtration system. For the first time, the new service pairs consumers with one of dozens of factory certified professionals, including both sales consultants and installers, in order to make the purchase and installation process both seamless and efficient.
Through utilizing the new Pelican Mobile Retail Center, consumers will first undergo a complimentary home water screening including a water test. Once needs have been identified, a certified sales professional will guide the consumer through the many varieties of water filters, softeners, and combination systems available in order to find the best fit for each home's unique needs, all from the consumer's own home. This innovative service brings factory direct pricing, superior customer service, and a large inventory of products directly to the home of consumers.
A certified installation expert will later install the items in an efficient and expedited manner. These experts respect the home and time of consumers, leaving them with peace of mind and access to purer, better-tasting water in less time. All of these installations are backed by Pelican Water's 90-day labor guarantee.
Installation done the Pelican way promises that consumers will have access to higher-quality water from every faucet in their home within just three days.
"A growing segment of our consumers lead very active and busy lifestyles, and have commented that they want the value of factory direct pricing, an informative sales experience, and a trusted company to take care of the sale and installation of their water filtration products," said Pelican Water Systems CEO, Iain J. Whyte. "We believe that the new Pelican Mobile Retail Center meets and exceeds the standards requested by this important consumer segment. Orlando is the first city to get the new service, but we expect to roll this program out across Florida during 2016 and 2017."
To schedule an in-home consultation, or simply to learn more, customers are encouraged to call 1-866-SAFE-H20 or make an appointment online.
About Pelican Water Systems:
PelicanWater.com is the official, factory-direct retail website for Pelican Water Systems, providing professional knowledge and leading technologies in whole house water filtration, countertop water filtration systems, UV bacteria disinfection systems, as well as salt-free water softening and conditioning systems. Pelican Water products use cutting-edge technology and enable customers to go green by eliminating wasteful and harmful salt brine discharge that is polluting our valuable fresh water resources. Pelican Water is also proud to offer under-counter reverse osmosis systems that are small enough for practical use in RVs and marine vessels. For over a decade, Pelican Water has stayed true to their mission statement: being a company that helps families enjoy cleaner, safer, better-tasting water in their homes in an environmentally friendly way. Pelican Water has been and continues to be the global market leader in salt-free water softening systems. For more information about Pelican Water Systems, visit PelicanWater.com.