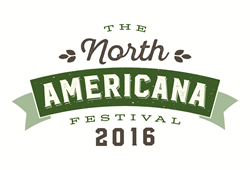 "The NorthAmericana Festival is a great event and a highlight of Revival Month in Harvard Square, with an impressive talent lineup and a terrific family-friendly program"
Cambridge, MA (PRWEB) September 07, 2016
On Saturday September 17, the NorthAmericana Festival hits the streets of Harvard Square for its first annual roots music celebration. The two day affair kicks off with a concert Friday September 16th at Club Passim and continues with an all day free show on Brattle Street on Saturday. The lineup will feature a dozen Americana acts ranging the spectrum from bluegrass to blues, with forays into country, folk, and good old fashioned rock and roll.
Highlights include new voices like the tender harmonies of bluegrass trio Lula Wiles and the soaring pipes of Julie Rhodes, whose debut albums Bound To Meet The Devil has been one of the region's biggest success stories. Alongside these newcomers, veteran artists join the bill including Chuck McDermott (MA Country Music Hall of Fame member) and local blues legend Peter Parcek (3x Boston Music Award nominee). Other performers include The Wolff Sisters, Comanchero, Citizen Slim (ft. Greg Klyma & Ryan Fitzsimmons), Tony Savarino & The Savtones, Patrick Coman, Miriam (ft. Amy Fairchild and Carla Ryder), and Providence, RI's The Silks will close out the night with their incendiary mix of blues, soul, and rock and roll.
The festival is presented in partnership with the Harvard Square Business Association as part of Revival Month, a month-long celebration of tradition and renewal that takes place in the Square each September.
"We are so excited to have the NorthAmericana Festival in Harvard Square! It is a great event and a highlight of Revival Month, they have an impressive talent lineup and a terrific family-friendly program," says Denise Jilson, executive director of the Harvard Square Business Association.
The outdoor event is free thanks to the support of the grant program of the Massachusetts Cultural Council (MCC), a state agency, which awarded the Festival a grant through the Cambridge Arts Council. Additional consideration and support for the festival is provided by Fishman, the Massachusetts based manufacturer of pickups and amplifiers for stringed instruments. Food and refreshments provided by Fire + Ice in partnership with Lagunitas and Polar Seltzer.
NorthAmericana Festival Full Lineup:
September 16th – Kick off Concert 8pm at Club Passim ($15/18):
Jay Psaros
Chuck McDermott
TICKET LINK: http://clubpassim.org/club/north-americana-festival-featuring-chuck-mcdermott-and-jay-psaros
September 17th – Brattle Street Festival Stage 12-9pm:

Tony Savarino & The Savtones
Lula Wiles
Citizen Slim
The Wolff Sisters
Comanchero
Julie Rhodes
Patrick Coman
Peter Parcek
Miriam
The Silks
Media Contact:
Dino Cattaneo
(617) 800-5740
dino(at)northeamericana(dot)com