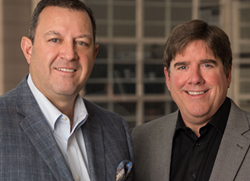 Amy is exactly what we had in mind when we designed this scholarship
Dallas, Texas (PRWEB) September 09, 2016
The Texas law firm Guajardo & Marks has announced the winner of their 2016 scholarship. Amy-Lee Goodman from Houston, TX, won the scholarship, due in large part to her writing on environmental issues published on the T. Colin Campbell Center for Nutrition Studies website.
"Amy is exactly what we had in mind when we designed this scholarship," said Michael Guajardo. "She has not only accomplished a great deal by co-authoring books and building a food company, but she also clearly has a passion for improving the world we live in. Amy will continue to do great things, and we are honored to have the opportunity to facilitate her incredible work."
The article that garnered the attention of Guajardo & Marks was titled America the Beautiful: Swimming in the Slurry, which focused on the environmental impact of manure spills in the United States.
"While many consumers have heard about the Amazon Rainforest disappearing and climate change, few if any, have heard about the massive manure spills from factory farms that are decimating our oceans and are larger in size than oil spills," wrote Goodman in the article.
Goodman has also co-authored two books: Rethink Food: 100+ Doctors Can't Be Wrong and The Meaty Truth: How Our Food is Destroying Our Health and Environment - and Who is Responsible. She co-founded the plant-based food company Zibble Inc. Goodman received her undergraduate degree at Wellesley College in Massachusetts.
Guajardo & Marks offered the scholarship to assist those who demonstrated creative authorship. The Dallas firm wanted to find a recipient who would go on to do important work for the future of our country, Guajardo said. He added that they had found that and more in Amy-Lee Goodman.
About Guajardo & Marks:
Guajardo & Marks is a personal injury law firm based in Dallas, TX. Attorneys Michael Guajardo and Greg Marks assist those who have suffered catastrophic injuries due to the negligence of others. Key parts of their practice include automotive product liability, traumatic brain injury cases, large truck accident cases and workplace injury cases. Find out more about Guajardo & Marks or contact them by visiting their website.