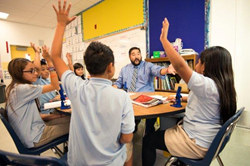 When students learn, we all win.
Austin, TX (PRWEB) September 08, 2016
Kensington Electronics is pleased to announce that September is "KEI for Kids" month. With all children returning to the classroom, it is important that they have the tools they need to be successful in S.T.E.M. based curriculums. (Science, Technology, Engineering, & Math) As a high tech company supplying interconnect solutions for Space, Military, Industrial, Medical, Solar, and High Speed applications, there is no better cause than ensuring our young minds continue to dream, design and develop future innovative products. "Kensington has been very fortunate to be part of the amazing advances in technology over the past 27 years," said Casey Donovan Cavender, Vice President of Kensington Electronics, Inc. "and as a privately held corporation, we feel it is important to give back to the communities we live and work in. DonorsChoose.org is the perfect platform to allow us to help, and have an immediate impact on childrens' lives." Check back with us in October to see what projects were funded because of customers like you! Projects will be listed on our website, Facebook Page, and Twitter account.
About Kensington Electronics
Kensington Electronics (http://www.keiconn.com) is among the top 50 distributors of electronic components in the nation. Founded 27 years ago, Kensington's philosophy is to serve the quickly evolving telecommunications, medical, alternative energy, oil/gas, automotive, aerospace, and defense industries with the finest components. Kensington's philosophy of providing superior customer service isn't a tagline, it's a founding ideal. Regardless of size, each customer is given the same attention to find the best: connector, transformer, buzzer/speaker or LED solution.
About DonorsChoose.org
Founded in 2000, DonorsChoose.org makes it easy for anyone to help a classroom in need. Teachers at 73% percent of all the public schools in America have created project requests, and 2,268,047 people have donated $460,215,486 to projects that inspire them. Over 19,635,317 students—most from low-income communities, and many in disaster-stricken areas—have received books, art supplies, field trips, technology, and other resources that they need to learn.
Learn more about S.T.E.M. at http://www.stemedcoalition.org.