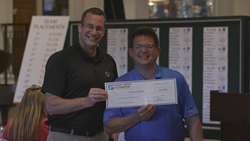 PORTLAND, Ore (PRWEB) September 20, 2016
On July 20th, Pacific Office Automation (POA) sponsored its Infinite Potential Golf Tournament at the Portland Golf Club to support local non-profits. The tournament, a 5-player scramble, raised over $72,000 for 25 of the participating non-profits, including: Morrison Child & Family Services, Cascadia Behavioral Healthcare, Inc., and Boys & Girls Clubs of Portland.
In addition to providing printers and other office equipment, as well as workflow solutions, POA prides itself in its dedication to bettering the communities it serves.
"We're grateful that the company's success has enabled us to team up with our community," said Doug Pitassi, Pacific Office Automation president. "Together, we raised over $72,000 for some great causes. We couldn't be more grateful to everyone who came out in support!"
Philanthropy is a large part of POA's company mission and culture, as is its dedication to the customers and communities it serves.
"What's great about POA is that even as it grows in scope, the local roots seem to deepen," said Doug Pitassi, Pacific Office Automation president. "We take advantage of the additional resources that come with growth, but haven't lost that connection to the people around us."
Pacific Office Automation would like to thank everyone who made this event possible, especially those who came out to the golf course. For more information about the company's community events and sponsorships, visit Pacific Office Automation's website today.
About Pacific Office Automation
Pacific Office Automation (http://www.pacificoffice.com) is a leader in managed printing solutions and document management software. Since 1976, POA has grown to become the industry's largest independent dealership with 18 locations throughout Washington, Oregon, California, Arizona, New Mexico, Utah, Idaho and Colorado. The company is also one of the largest independent distributors, carrying brands such as Sharp, Konica Minolta, Toshiba, Ricoh, Lexmark, Xerox, Muratec, Canon and HP copiers, printers, faxes and multifunctional devices. POA believes in providing custom print solutions that are fast, efficient and secure so customers can confidently say, "Problem Solved."