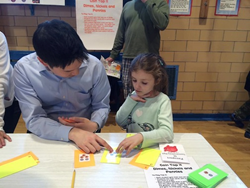 One of the greatest gifts we can give the next generation is an early understanding of healthy money habits and basic financial literacy.
New York, NY (PRWEB) September 08, 2016
The Council for Economic Education (CEE) is excited to announce this year's distinguished honorees at the 11th Annual Visionary Awards, four individuals who are making a powerful impact on financial and economic literacy. The Visionary Awards recognize the outstanding achievements of leaders, experts and educators whose efforts are moving the needle in the right direction, helping create a society better able to make informed decisions as consumers, savers, investors, voters, and participants in our global economy.
Held at New York City's landmark Plaza Hotel on October 26, the 2016 Visionary Awards will be emceed by Steve Liesman, CNBC's Senior Economics Reporter.
This year's honorees include Founder of The Huffington Post and Founder and CEO of Thrive Global; Richard Edelman, President and CEO of Edelman, the leading communications marketing firm, with 65 offices and 5,500 employees worldwide; Frank Bisignano, Chief Executive Officer and Chairman of the Board of First Data Corporation; and Glenn Hubbard Dean and Russell L. Carson Professor of Finance and Economics at Columbia Business School.
"One of the greatest gifts we can give the next generation is an early understanding of healthy money habits and basic financial literacy," said Ms. Huffington. "When we do this, we're not only helping them to succeed financially, we're helping them build a foundation that allows them to live a less stressful and more resilient life and reach their full potential."
Following the award ceremony, Liesman will lead a fireside chat with the honorees in lieu of speeches. In addition, as part of the program the three recipients of the 2016 Alfred P. Sloan Foundation Teaching Champion Award-- K-12 teachers in the New York metropolitan area who have successfully integrated economics and financial literacy education into everyday learning in their classrooms--will also be recognized.
"We are thrilled to honor such a distinguished group of leaders, experts and educators and their continued efforts to promote economic and financial literacy," said Nan J. Morrison, CEO and President, CEE. "Through advocacy, education and leadership, the 2016 Visionary Award winners are helping create a more financially literate society for the next generation."
The 2016 Visionary Awards are made possible by the generous support of our Platinum Sponsors Edelman and First Data; Gold Sponsors Melody Hobson/Ariel Investments, HSBC, Marie-Josée and Henry R. Kravis, Mastercard, The Moody's Foundation, Peter G. Peterson Foundation, State Farm, Verizon, and Wells Fargo; and Silver Sponsors Ally, Charles Schwab & Co., Inc., FINRA, Ford/Ford Credit, The Julis Family, Kirkland & Ellis/PwC, The Guardian Life Insurance Company of America, and UPS; and Fireside Chat Sponsor Bank of America.
For more information on CEE's Visionary Awards, please visit http://www.councilforeconed.org/visionaryawards.
About the Council for Economic Education
The Council for Economic Education is the leading non-profit organization in the United States that focuses on the economic and financial education of students from kindergarten through high school - and we have been doing so for 67 years. We carry out our mission by educating the educators: providing the curriculum tools, the pedagogical support, and the community of peers that instruct, inspire, and guide. All resources and programs are developed by educators, and delivered by our national network of affiliates. Our goal is to reach and teach every child. Each year CEE's programs reach more than 55,000 K-12 teachers and over 5 million students across the United States. EconEdLink – our free, online educator gateway for economic and personal finance lessons and resources – attracts more than 1.1 million unique visitors each year.