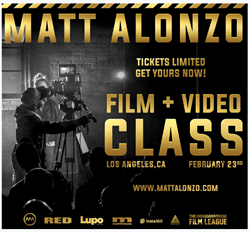 In this class, I'm going to give you the game, straight up, no chaser. You will learn all the things I wish someone would have taught me when I first arrived in Hollywood
LOS ANGELES (PRWEB) February 16, 2019
Celebrated Video Director Matt Alonzo officially announced that on February 23, 2019, he will host and teach an exclusive pop-up class called The Film League. The goal of the class is to save filmmakers, videographers and content creators of all levels, years of wasted time and money by teaching essential filmmaking principals, visual communication, and production business practices. Presented by RED Digital Cinema, Filmmakers World, Insta360, Lupo, Matthews Studio Equipment, Quasar Science, Magnitud Cinema and Trea Day Management & Publicity, The Film League pop-up class will take place at a top-secret location from 9 am to 6 pm to a limited number of lucky students who understand the importance of investing in one's career. Tickets ranging from $97 to $500 can be purchased by visiting http://www.mattalonzo.com.
By the end of 2019, film and video content will draw more than 80% of internet traffic across the world. This means there has never been a better time to be or become a filmmaker and to invest in yourself through learning new valuable skills from industry professionals.
Matt Alonzo's The Film League pop-up class will specifically teach to content creators and aspiring creatives at various stages of their career how to stand out and it will provide a one of a kind opportunity to network with filmmakers and industry affiliates from all around the world.
Featured in countless media outlets from Riphort, Complex and XXL to Baller Status, Hip Hop Wired and Carpenteria, Matt Alonzo's client list is a "Who's Who" in urban hip hop and pop culture as well as Fortune 500 companies including the NFL, Boost Mobile, Heineken, Halo, Billboard, Metro PCS, Kmart, Justin Bieber, Tyrese, Tyler The Creator, Lil Wayne, The Game, Far East Movement, Snoop Dogg, Kevin Durant and Floyd Mayweather, and that's barely scratching the surface.
The Film League will feature special guests, a few surprises, and it will be packed with bankable wisdom, shared by the visionary Matt Alonzo. Since the early stages of his career, he has created hundreds of high quality and award-winning works from branded content to music videos that have generated more than 3,000,000,000 views on YouTube alone.
"I'm most frequently asked how to break in the industry, how to use equipment to its full potential, how to book clients, and so much more," explains Alonzo, "In this class, I'm going to give you the game, straight up, no chaser. You will learn all the things I wish someone would have taught me when I first arrived in Hollywood."
While limited space is available, tickets can still be purchased at http://www.mattalonzo.com or via Eventbrite. To secure VIP media access to The Film League pop-up class or a pre-event interview with Matt Alonzo, contact Trea Davenport, Trea Day Management & Publicity at trea@treaday.com or directly at 310-728-5000.