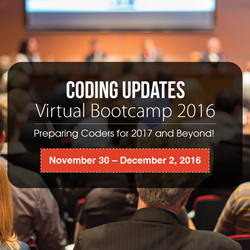 The Coding Updates Virtual Bootcamp 2016, led by top healthcare expert speakers will provide specialty-specific coding knowledge and skills to prepare coders for 2017 and beyond!
Durham, NC (PRWEB) September 08, 2016
With ICD-10 2017 and CPT® updates looming large on the horizon, ACA reforms, and MACRA driving the next generation of Medicare's value-based payment system, enhancing knowledge and coding skills according to the new changes is important. More than ever before, precision coding and clean documentation will decide the flow of reimbursement for medical providers.
To keep coders prepared for 2017 and beyond, The Coding Institute will host "Coding Updates Virtual Bootcamp 2016" from Wednesday, Nov 30 to Friday, Dec 2, 2016. The boot camp will be presented by the industry veterans for seven specialties, including Urology, Pathology, Orthopedics, Ob-Gyn, Pediatrics, Ophthalmology, and Pain Management. The general track training sessions will include hot topics such as ICD-10 2017; Medical Necessity; Mid-Level Providers; Modifiers; E/M Coding; and MACRA & MIPS.
Each specialty track will be presented by an expert and will include a comprehensive 6-hr session on coding updates & strategies, compliance tips and best practices to maximize revenue. General tracks will comprise of 1-hr each pre-recorded sessions followed by a Q&A session by coding expert Marchelle Cagle, CPC, CPC-I, PCS. Participants can earn up to 12 AAPC approved CEUs for attending this boot camp.
Expert Panel
1. Dr. Michael A. Ferragamo Jr.,--MD, FACS
2. Marchelle Cagle—CPC CPC-I, CEMC, CPB, CMOM
3. Lynn Anderanin—CPC, CPC-I, COSC
4. Donelle Holle – RN
5. Amy Turner - RN, BSN, MMHC, CPC
6. Jan Rasmussen - PCS, ACS-GI, ACS-OB
7. Melanie Witt – RN, MA
8. Jeffrey Restuccio - CPC, COC, MBA
And More!
After the stupendous success of CodingCon in 2015 at Orlando, Fla., which was an onsite conference, The Coding Institute (TCI) have decided to host a virtual coding update boot camp so that attendees could avoid inclement weather and security risks, save on travel time and training costs. TCI believes that given the decreasing training budgets in many healthcare organizations, such online coding training events will help coders stay updated and skilled without putting an undue financial strain on practices and healthcare organizations.
Benefits of Attending:

Coders, billers and healthcare professionals will be able to prepare themselves on time for the ICD-10 2017 and CPT® updates.
Attendees will get guidance and direct advice from multispecialty coding experts in one place.
They can save on travel and accommodation costs.
They don't have to worry about bad weather or heightened security risks.
Opportunity to earn up to 12 AAPC approved CEUs.
6-hr comprehensive sessions on each specialty at fraction of regular costs.
Apart from specialty-specific coding guidance they can also get expert advice on important topics such as Medical Necessity, MACRA, MIPS, E/M coding, Modifiers, Mid-Level providers and more!
For more information visit: https://www.AudioEducator.com/VirtualBootCamp
Register before September 15, 2016, and get an Early Bird Discount where you can save up to $200.