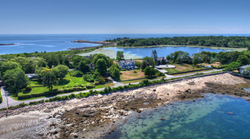 Belmar Estate 42 Eastern Point Boulevard, Gloucester, MA On Site Estate Auction Sept 17, 2016 10:00am
Beverly, Massachusetts (PRWEB) September 08, 2016
Kaminski Auctions invites you to experience the wonder of Eastern Point on Saturday, September 17,2016 for a spectacular on site auction under a tent at the Belmar Estate at 42 Eastern Point Boulevard, Gloucester, Massachusetts. The auction features the collection of Count Jochen von Haller and the late Countess Ute von Haller.
The Belmar estate is located on one of the prettiest stretches of coastline in all of Massachusetts. Eastern Point is a historic private residential community close to the Rocky Neck Art Colony, the Eastern Point Yacht Club, the Beauport Museum (Sleeper-McCann House), and Niles Pond. From this magnificently situated estate you will savor many of the same views that inspired Fitz Hugh Lane, America's preeminent marine artist and pioneer in the Luminist movement.
The Count and late Countess were lifelong collectors and the auction features furniture, furnishings, oriental rugs, diamond and platinum jewelry, decorative objects and spectacular garden statuary from the estate. Fine art in the auction includes Emile Grippe, Antonio Jacobsen and French artist Julien Dupre. In addition a 1993 Rolls Royce Silver Spur II with very low original mileage and a 1984 Mercedes Gazella replica will be auctioned off as well.
The oceanfront Belmar estate on the prestigious Eastern Point Boulevard is situated on over one and a half acres of land. This exquisite property offers breathtaking front and rear views of the Atlantic Ocean, Niles Pond, and Gloucester Harbor. The main house consists of six bedrooms, two full and two half baths, while the guesthouse is comprised of two bedrooms with one full bath, and a five bay garage. Enjoy gorgeous sunrises and sunsets from inside the exquisite home or outside on multiple decks.
Offered at $2,995,000, Joseph Palermino, the Managing Partner for Cabot & Company is the listing broker for this exclusive estate and invites you to contact him at 617-262-6200 or his associate, Carol Korbman, at 617 262 6200 for more information. Or you can email Joseph (joe(at)cabotandcompany(dot)com) or Carol (carol(at)cabotandcompany(dot)com).
Preview for the auction will take place on Friday, September 16th from 10:00am-6:00pm and day of sale beginning at 8:00am. Preview is also open all day while auction is live.
For more information and to sign up to bid with KaminskiLIVE go to http://www.kaminskiauctions.com or call 978-927-2223.