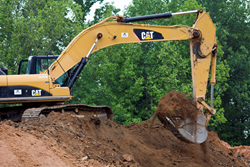 Finally an easy way for contractors to exchange fill material
Los Angeles, CA (PRWEB) September 10, 2016
Got dirt? Need dirt? Ryan Crownholm is launching DirtMatch.com, a new online dirt brokerage service that provides a simple, cost-effective solution for all dirt acquisition and disposal needs.
Dirt Match will change the fill material exchange marketplace by easily connecting people who have excess dirt (cut) with people who need dirt (fill). The service will provide tremendous cost savings for businesses looking to minimize trucking and dumping fees.
The company is also committed to the environment, with a green mission to recycle instead of waste. Rather than taking any extra soil to a landfill, our mission is to get it to someone who needs it. Access to closer dump sites also reduces fuel and labor costs for the businesses.
"The way we exchange soil now is inefficient both for the environment and businesses," says Crownholm. "I decided it was time to step up and fix the problem."
Crownholm is no stranger to dirty businesses. He was the founder of one of the largest junk hauling companies in California in early 2000. Since then he has built companies ranging from electronics recycling and trucking to demolition and excavation.
As an accomplished entrepreneur, Crownholm knows a good idea when he sees one. This time, it's dirt.
To contact Ryan Crownholm, call 310-510-6675 or email Ryan(at)DirtMatch.com. To learn more about Dirt Match, visit the website at DirtMatch.com.