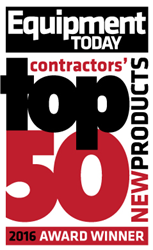 Contractors' Top 50 New Products awards represent the leading edge of innovation, quality, efficiency and environmental conservation in the construction equipment field today.
Fort Atkinson, WI (PRWEB) September 10, 2016
Equipment Today magazine announces the 2016 hottest new construction products this week as it unveils the 2016 Contractors' Top 50 New Products awards, sponsored by the magazine in partnership with ForConstructionPros.com. Equipment Today and ForConstructionPros.com used feedback from construction equipment owners and operators to identify the favorite new products featured in the publication and on the web portal over a 12-month period from May 2015 to April 2016.
Recipients of the Contractors' Top 50 New Products awards are organized into eight categories based on product type or application. Winning products represent the leading edge of innovation, quality, efficiency and environmental conservation in the construction equipment field today.
The following products were selected as the 2016 Contractors' Top 50 New Products:
EARTHMOVING – LIGHT
Bobcat S740 Skid-Steer Loader
Boxer 525DX Compact Utility Loader
Case TR340 Compact Track Loader
Caterpillar D2 Series Loaders
Ditch Witch SK752 Mini Skid Steer
JCB 3CX Compact Backhoe-loader
Takeuchi TS80 Series Skid-Steer Loaders
Toro Dingo TX 1000 Compact Utility Loader
EARTHMOVING - HEAVY
Dressta TD9 Hydrostatic Crawler Dozers
Gradall Discovery Series Crossover Excavators
Hitachi ZX670LC-6 and ZX870LC-6 Excavators
Hyundai Tier 4 Final HX series Hydraulic Excavators
John Deere L-Series Backhoe-loaders
Komatsu D61-24 Crawler Dozer
Kubota L47 and M62 Tractor-loader-backhoes
Liebherr XPower Large Wheel Loaders
ATTACHMENTS
Denis Cimaf DAF Front-mounted Forestry Mulcher Series
Fecon Stumpex Stumper
K-Tec 1263 ADT Pull Scraper
Remlinger Skid Steer PFM Screening Bucket
Skidsteersolutions.com Eterra RT-20 Raptor Boom Arm and Mower
Valley Tool FHX Defender Forestry Mulcher
Western Material & Design FasTrac Concrete Mixer
Worksaver Sweep Action Rock Grapple
LIFTING
Caldwell Dura-Lite Lifting and Spreader Beams
Grove Hydraulic Crawler (GHC) Cranes
ReachMaster Bluelift B85 Compact Lift
Skyjack TH Series Telehandlers
ROAD BUILDING
Carlson CP75 Commercial Class Paver
GOMACO GP3 Smart Paver
Roadtec RP-195e Asphalt Paver
Vögele MT 3000-2i Material Transfer Vehicle
TECHNOLOGY
RAM Mounting Systems IntelliSkin
Topcon Siteview Technology
Trimble 3D Grade Control System for Bobcat Grader Attachments
US Radar Q5 Series Ground Penetrating Radar System
TRUCKS & TRANSPORTATION
A.R.E. Tonneau Covers and Caps for 2015 GM Pickups
Buyers Products XD Series Tool Boxes
Chevrolet Silverado 1500
Curry Supply Medium-duty Dump Truck Bed
Ford Super Duty Pickups
International HX Series Vocational Trucks
Ram Truck Heavy Duty Pickups
Volvo VNX Tridem Model
WORKSITE
Boulder Power PowerTap 2000 Lithium Ion Generator
Lincoln Electric Vantage 520 SD Welder/Generator
Miller Electric Big Blue 800 Duo Pro Welder/Generator
Thunder Creek Multi-Tank Trailers
Vermeer FT300 Forestry Tractor
VMAC RAPTAIR-G30 Rotary Screw Compressor
Additional information on the winning products can be found in the September issue of Equipment Today and on ForConstructionPros.com/Equipment.
Equipment Today magazine – with 51 years in the publishing industry – is the commercial contractor's leading equipment information resource. ForConstructionPros.com is the construction industry's #1 web portal. Equipment Today and ForConstructionPros.com are properties of AC Business Media.
About AC Business Media
AC Business Media is a business-to-business media company with a portfolio of renowned brands in heavy construction, asphalt, concrete, paving, rental, sustainability, manufacturing, logistics and supply chain markets. AC Business Media delivers relevant and cutting edge content to its audiences through its industry-leading digital properties, trade shows, videos, magazines, webinars and newsletters and provides advertisers the analytics, data and ability to reach their target audience.