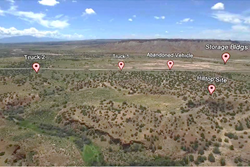 Albuquerque, New Mexico (PRWEB) September 12, 2016
Rapid Imaging Software, Inc. announced today that SmartCam3D View, an augmented reality (AR) app for small drones is available on the Apple App store and is free for a limited time. The app uses augmented reality to blend place markers onto video.
SmartCam3D View is easy to use. Before or during a flight, the pilot adds points of interest to the map view with one touch. During flight, points show as AR overlays in the correct geographic location on the video. The points may be named and shared via email.
Augmented reality is found in a variety of cell phone apps, such as Pokémon Go and apps for makeup application. Beyond the phone apps, AR delivers real benefits for drone pilots and camera operators.
The benefits include:
1. Avoid becoming lost –View way points in the video and see an icon for home base.
2. Find things – AR points show the location of any item added to the map.
3. Create visible no-fly zones– Add marks for hazards such as trees, utility lines or other areas to avoid.
With SmartCam3D View the pilot can use the video view for most of the flight while maintaining location awareness.
Who needs AR on their drone?
Everyone. This technology is useful for all drone pilots, from hobby fliers to public safety officers. Here are a few examples:
Hobby fliers- add points for flight boundaries, items in the view, trails and other notes.
Filmmakers- place points to show the location and camera direction for a scene.
Search and rescue teams – add a point for last known location of a missing person or add boundaries for a grid search.
Public safety–add points to residences, command posts or hazardous materials.
Growers – Show points for field boundaries or crop areas requiring additional attention.
SmartCam3D View runs on iOS devices and is compatible with the following DJI platforms: DJI Phantom 3, Phantom 4 and Inspire.
Find the app here: https://itunes.apple.com/us/app/smartcam3d-view/id1102471673?mt=8
For more information contact us at 608-824-1131 or info(at)rapidimaging(dot)net.