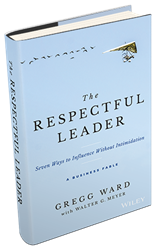 Gregg's reading combined the best of a traditional author event with a rousing dramatic performance. He had the audience on the edge of their seats! -- Mary Lee Delafield, Warwick's staff
La Jolla, CA (PRWEB) September 12, 2016
Author and leadership expert Gregg Ward celebrated the launch of his new book The Respectful Leader: Seven Ways to Influence Without Intimidation at Warwick's bookstore on August 25th. The event was standing room only, with over 70 people in attendance. "Gregg's reading combined the best of a traditional author event with a rousing dramatic performance. He had the audience on the edge of their seats!" said Warwick's staff member Mary Lee Delafield.
Ward, who is also a professional actor, surprised the audience by dramatizing selected scenes from the book. He portrayed main character Des Hogan, a new CEO whose disrespectful behavior is hurting his company's morale, productivity, and profits. Performer Sylvia Enrique joined Ward in the role of Grace, the maintenance worker who shows Des how to become a Respectful Leader. "I wanted to show that not only does The Respectful Leader offer useful concepts and techniques, but it's also a really fun and engaging read with realistic characters and situations," said Ward.
After the performance, Ward took questions from the audience. They were invited to join Ward for a reception at Hennessy's Tavern, where friends, colleagues, and supporters gathered to discuss respectful leadership.
Recently selected as an Amazon Best Book of the Month, The Respectful Leader is a business fable that teaches respectful behaviors leaders can adopt. It is available online and in bookstores across North America.
Ward's Q&A with The San Diego Union-Tribune was published last weekend. He has discussed his book on local news channel Fox 5 San Diego and been featured in the Chicago Tribune, Inc. Magazine, Fortune, Creators Syndicate, Networking Times Today, and on air at Real Talk San Diego ESPN 1700AM.
About the Gregg Ward Group
The Gregg Ward Group is a management consulting, training and executive coaching firm that focuses on helping leaders develop their Respectful Leadership, Emotional Intelligence, and Executive Presence skills through experiential learning, guided interactive facilitation, and professional theater performances. Learn more at greggwardgroup.com.