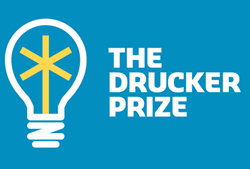 These are all nonprofits that have shown a real hunger to learn.
CLAREMONT, Calif. (PRWEB) September 12, 2016
The Drucker Institute at Claremont Graduate University has named the 10 finalists for the 2016 Drucker Prize. The winning nonprofit organization, which will be announced on September 30, will receive $100,000.
The Drucker Institute also said that it has now released to the entire social sector all of the content from The Drucker Prize learning platform: readings featuring the timeless wisdom of Peter Drucker; videos showcasing insights from some of today's top thinkers on management and leadership; and other resources. All of this material is now available here for free to any interested organization.
The finalists for this year's Drucker Prize are:

The 10 finalists were selected from among 50 semifinalists announced on July 25. Leaders from these 50 organizations each went through a series of mini-courses on The Drucker Prize learning platform, where they explored different aspects of innovation and organizational effectiveness. They were then asked not only whether their organization currently utilizes the principles that were presented but, in addition, how they could put into practice any new ideas that they learned.
"We know from Peter Drucker that all social sector organizations share the 'bottom line' of changed lives," said Zach First, the Drucker Institute's executive director. "Each of our 10 Drucker Prize finalists has a bottom line demonstrating robust results. What's more, these are all nonprofits that have shown a real hunger to learn and try out new concepts to make their organizations even more innovative and high-performing. It is a privilege and an honor to put forward these 10 organizations for consideration by the final judges."
In addition to First, the final judges for the 2016 Drucker Prize are: Stephan Chambers, Director of the Marshall Institute for Philanthropy and Social Entrepreneurship at the London School of Economics; Sumita Dutta, managing director at Golden Seeds; Thomas Horan, Henry Y. Hwang Dean of the Drucker School of Management; Geneva Johnson, former president and CEO of Family Service America and Families International; Virginia Kelly Judd, Executive Director of Humana Foundation; Kevin McCoy, President of National Office Furniture; C. William Pollard, chairman emeritus of ServiceMaster Co. and an emeritus member of the Drucker Institute's Board of Advisors; Theresa Reno-Weber, Chief of Performance and Technology at Louisville Metro Government and a member of the Drucker Institute's Board of Advisors; David Styers, Manager of Program and Business Development at the Presidio Institute; and Jocelyn Wyatt, Co-Lead and Executive Director at IDEO.org.
Administered annually since 1991, The Drucker Prize, formerly known as the Peter F. Drucker Award for Nonprofit Innovation, is given to a social-sector organization that demonstrates Drucker's definition of innovation—"change that creates a new dimension of performance." The judges look for programs that are highly effective and have made a difference in the lives of the people they serve, as well as for those organizations that demonstrate a capacity to further leverage the discipline of innovation.
Hailed by Businessweek magazine as "the man who invented management," Peter Drucker not only consulted for major corporations; he also advised the Girl Scouts of the USA, the Red Cross, the Salvation Army and countless other social-sector organizations. He called the nonprofit "America's most distinctive institution."
If you have questions about the application or prize process, please contact: DruckerPrize(at)druckerinstitute(dot)com.
About the Drucker Institute
The Drucker Institute is a social enterprise based at Claremont Graduate University. Our mission is strengthening organizations to strengthen society. Our programming—for the corporate, nonprofit and public sectors—is built on a foundation of YESTERDAY/TODAY/MONDAY*. "Yesterday" refers to the fact that our work is grounded in Peter Drucker's timeless wisdom. "Today" speaks to the urgency that we know organizational leaders feel to successfully meet their greatest challenges and opportunities. And "Monday" points to our proven ability to help executives move quickly from ideas to action to results, just as Drucker urged his own consulting clients: "Don't tell me you had a wonderful meeting with me. Tell me what you're going to do on Monday that's different." For more, visit druckerinstitute.com.
About Claremont Graduate University
Founded in 1925, Claremont Graduate University is the graduate university of the Claremont Colleges. Our five academic schools conduct leading-edge research and award masters and doctoral degrees in 24 disciplines. Because the world's problems are not simple nor easily defined, diverse faculty and students research and study across the traditional discipline boundaries to create new and practical solutions for the major problems plaguing our world. A Southern California based graduate school devoted entirely to graduate research and study, CGU boasts a low student-to-faculty ratio.