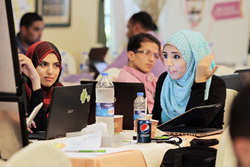 Technology is the one sector of the Gazan economy that is not confined by borders or other constraints.
Gaza (PRWEB) September 12, 2016
Best friends Mohammed Al Madhoun and Osayd Madi faced many challenges in pursuing their dream to become successful game designers, but with the support of tech accelerator Gaza Sky Geeks – run by the global organization Mercy Corps – the pair invented a game that was downloaded over half a million times in less than one month.
Called "Ramadan Challenges," the app is free to download – available on a number of platforms including the google app store and GooglePlay store for Android -- and earns revenue from advertising and in-app purchases. Competitors complete a series of short Ramadan-themed puzzles. The initiative is one of several Gaza Sky Geeks-born startups that recently started to earn revenue. The next round of incubation will start in September 2016.
"Technology is the one sector of the Gazan economy that is not confined by borders or other constraints," said Ryan Sturgill, Startup-Accelerator Director for Gaza Sky Geeks. "For young entrepreneurs like Madhoun and Madi, Gaza Sky Geeks provides a unique opportunity to build self-sustaining, income-generating businesses that target markets across the Middle East and around the globe – all from within Gaza via the internet."
The only initiative of its kind, Gaza Sky Geeks is Gaza's first startup accelerator, co-working hub and technology incubator. Launched in 2011 by Mercy Corps with support from Google.org, it aims to spark awareness of startups in Gaza and to conduct outreach, build a vibrant community that nurtures innovation and connect top teams and talent to global resources. More than 2,500 youth have learned in-demand technical and entrepreneurship skills with Gaza Sky Geeks. Despite a 60 percent youth unemployment rate, Gaza has a dense population of educated, optimistic and resilient young people who are hungry to participate in the local startup movement.
The self-taught 28-year-old developers and designers Madi and Madhoun recently quit other jobs in order to pursue their startup full-time with support from Gaza Sky Geeks. The pair credits their success in part to recognizing an unmet demand. "There weren't many games tailored for the Arab market," says Madhoun.
Another Gazan Startup, 5QHQH.com, has recently topped 250,000 visits to their online comedy site and meme messaging service, the first of its kind in the Arab world. Nearly a dozen startups that have participated in the organization's incubation program have received investment offers, and roughly half of the organization's startups are run by women.