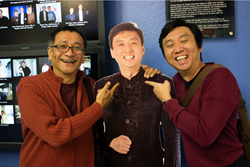 First Google your mind, then Google the Googler. – Dzogchen Ponlop Rinpoche
San Francisco, CA (PRWEB) September 14, 2016
On August 26, 2016, Dzogchen Ponlop Rinpoche, founder and director of Nalandabodhi, who does not shy away from using technology to share the teachings of the Buddha, spent the day at Googleplex in Silicon Valley. After touring the facilities, Rinpoche gave a talk to Google staff.
Rinpoche arrived mid-morning at the sprawling campus of Google's global headquarters in Mountain View, California, known affectionately as Googleplex. This year Google topped Facebook on Business Insider's list of the 50 best companies to work for in America, encouraging mindfulness practice as well as technology education among its employees, and providing free healthy meals, fitness facilities, generous paid parental leave and onsite childcare.
On his arrival, Dzogchen Ponlop Rinpoche was welcomed by Chade-Meng Tan, known as Google's champion of personal growth and author of the book Search Inside Yourself. Together with Tom Van Waardhuizen and other Google friends, Meng showed Rinpoche around the Google campus. The first stop for Rinpoche was a facility featuring a wrap-around, multi-screen display of Google Earth, where Chade-Meng took Rinpoche on a virtual tour of sacred places and monasteries in India and Tibet. Next, the group had lunch with key Google staff who shared with Rinpoche the many initiatives in evidence throughout the Googleplex facilities, including yoga halls, fitness centers and meditation rooms, which employees are encouraged to use at any time. Rinpoche was very interested and happy to learn about Google's efforts to promote wellbeing among its staff.
The group then boarded a shuttle to their final destination at Googleplex—the hall where Rinpoche was to speak to Google staff. The talk was streamed live to Google offices around the world and the full recording is now available at Talks at Google on YouTube and via links posted through the many Google social media outlets.
After touring the sprawling campus of Google in Mountain View, California, Rinpoche and the group arrived at the building where staff had assembled for a talk on "Searching for the Searcher." In his opening comments, Tom Van Waardhuizen welcomed the webcast audience and introduced Dzogchen Ponlop Rinpoche, asking him to teach the staff "how to Google the Googler." Rinpoche explained that when one becomes familiar with the mind's patterns, the mind's ultimate nature, innate freedom, also opens up. Rinpoche explored how mindfulness practice can reveal pleasant surprises about ourselves, the ones who are searching for happiness.
Rinpoche suggested that if we could chart our browsing history over time, organizing it by categories and trends, we would have a good idea of who we are. Rinpoche explained that meditation is a process by which one becomes familiar with one's mind. It's like Googling the mind. But, Rinpoche added, "Once we have a good idea what that mind is, it is very helpful to look directly at the one who is looking, to 'Google the Googler.'" At the end of his talk, after taking a few questions from the audience, Rinpoche signed copies of his new book, Emotional Rescue.