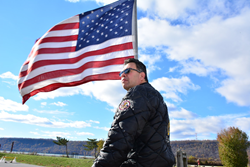 "The future of our country shouldn't be about political party. I'm running as an American,"
New York City, New York (PRWEB) September 13, 2016
Frank Spotorno has never appeared on a political ticket before, but he has been working to incite change as a private citizen for decades. Spotorno – known by New Yorkers as "Frankie Elevator" for his long-standing elevator cab manufacturing and inspection businesses– is on this year's ballot for New York's 14th Congressional District in the U.S. House of Representatives.
A lifelong New Yorker fortunate enough to live out his own American Dream, Spotorno has worked in the elevator industry for over 40 years, moving up to become a small business owner-operator of Park Avenue Elevator Designs in Queens and eventually the CEO of Parkline Elevator Inspections, Inc. in Manhattan.
Troubled by the trend of offshoring and outsourcing American manufacturing jobs – and having seen its negative effects in his own professional experience – Spotorno has pioneered efforts to bring jobs home to the United States, and has made this issue the focal point of his campaign.
In 1996, Spotorno, himself, turned down an offer from a California politician to move his elevator business to Mexico. Though he would have drastically cut costs on wages, benefits, and workers' compensation, Spotorno said he couldn't sell out his country. "If I had moved, I would be a multi-millionaire today," he says. "But I couldn't do it. I couldn't fire my workers. It's un-American. I couldn't sleep at night if I did."
Instead, Spotorno took matters into his own hands and co-founded Bring Our Jobs Home (also known as the Alliance of Americans for America), a website dedicated to keeping the public informed about the state of the nation's economy and the opportunity to re-shore manufacturing jobs to the U.S.
Spotorno calls this effort economic patriotism. "[It] is nothing more than doing what is right for Americans," he says. "Not what is right for corporations or for our politicians – what is right for the everyday American and his family. I want to highlight and promote the corporations and politicians that are doing the right thing by America, and that's what we try to do with Bring Our Jobs Home."
Through the Bring Our Jobs Home effort, Spotorno has been able to learn and spread the word about the facts of free trade agreements, tax policy, and past votes in Washington.
On two occasions, The Bring Jobs Home Act – a bill that would have denied tax deductions for outsourcing and granted a 20 percent tax credit to businesses insourcing operations – was put before Congress but died in the Senate without a floor vote.
"Because the Bring Our Jobs Home Act failed to become law, the American taxpayer continues to give a tax deduction and a business expense to American corporations that move jobs overseas," says Spotorno. "Our nation is over $18 trillion in debt. Can we really afford to give a tax break to a corporation who is moving its jobs overseas? You can call it whatever you want – call it crony capitalism; it's wrong and bad policy."
Another myth Spotorno has worked to debunk is that free trade agreements help American workers. "Trade deals starting with the North American Free Trade Agreement, then the Central American Free Trade Agreement, and the granting of permanent normal trade relations to China have been failures for the average, everyday American," he says. "Our corporations have moved millions of manufacturing jobs overseas, closing 60,000 U.S factories."
He continues, "It's not free trade when the other countries you trade with pay their workers pennies on the dollar and have no real disposable income to buy our products."
TPP – the Trans Pacific Partnership signed earlier this year– is the next free trade agreement Spotorno says will hurt the U.S. economy. If it follows in the footsteps of NAFTA, which created a million manufacturing jobs in Mexico, or the normalized trade relations with China, which sent 2.7 million manufacturing jobs to Asia, "It's more like a race to the bottom," he says.
Among the many organizations and non-profits that share Spotorno's passion for restoring America's manufacturing base is the Reshoring Initiative®. The group, founded in early 2010, compares and calculates the cost of doing business for manufacturing companies in America and overseas.
"My friend and a fellow economic patriot, Harry Moser, from the Reshoring Initiative®, estimates that we could re-shore 1 million manufacturing jobs tomorrow if our American corporations would just sit down with him and do the math," says Spotorno. "The fact that not enough CEOs or their shareholders are taking notice is a travesty."
With 47 million Americans living in poverty and 50 million Americans collecting food stamps or EBT cards Sportorno calls "the soup lines of today," he says the blame should be placed on both parties and the corruption, cronyism, money and lobbyists that controls Washington, D.C.
After watching Moser's call for American re-shoring go unanswered by corporations, the media, and the American public, Spotorno says he felt the only way to wake the country up was to run for office in his home state of New York.
"I don't see anybody standing up for the middle-class American worker, and it doesn't matter what party you are from," he said. "I can't stand by any longer and wait for our politicians and corporations to do the right thing."
"The future of our country shouldn't be about political party," says Spotorno. "I'm running as an American!"
To learn more about Frank Spotorno and his dedication to restoring the American economy, visit his campaign website.