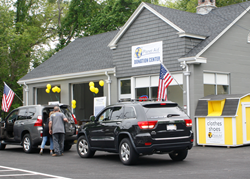 Wakefield, Massachusetts (PRWEB) September 14, 2016
Planet Aid announced today the launch of a fall clean-out campaign at its Wakefield, Massachusetts donation center. The campaign is encouraging residents to donate their unwanted items rather than throw them away.
Planet Aid opened its new donation center in Wakefield, Massachusetts in June. Members of the community have been dropping off clothing, shoes, accessories, toys, books, small appliances, electronics, and other household items.
"Our new Wakefield center is there to serve the community during clean-out season," said Planet Aid Operations Manager Keith Gregory. "We are ready to receive increased volumes at the center during this time and to schedule additional pick ups in the Wakefield, Reading, Lynnfield, Saugus, Lynn, Melrose, and Peabody areas."
The Wakefield Donation Center is located on 349 Water Street. Residents can request at-home pick up for bulk donations by calling 774-217-1787 or by emailing DonationsWakefield(at)planetaid(dot)org.
The Wakefield Donation Center is the second such center, following the establishment of Planet Aid's first donation site in Newport, Rhode Island. Now a convenient spot for residents to recycle their household items, the Rhode Island Donation Center collected many thousands of pounds of household items in its first year of operation, diverting the materials from the municipal waste stream and needless disposal. 
Planet Aid uses the proceeds raise from the sale to support sustainable development programs that help the world's poorest communities live better, healthier lives. Throughout Africa, Latin America and Asia, these donations help provide education, nutrition and health assistance to tens of thousands of people.
About Planet Aid
Planet Aid is a U.S. 501 (c)(3) nonprofit and is registered with USAID as a private voluntary organization. Accredited by the Better Business Bureau's Wise Giving Alliance, Planet Aid collects and recycles used clothing and shoes as part of its environmental mission. The net proceeds from its 21-state recycling operation help to support projects aimed at eliminating poverty. Since its inception in 1997, Planet Aid has provided more than $100 million to support projects on three continents. Planet Aid supports programs in education, teacher training, health and nutrition and agricultural and economic development.