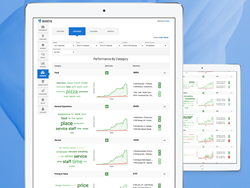 Athena converts unstructured data into straightforward insights so a business knows how they compare to the competition across critical operational metrics.
Sunnyvale, CA (PRWEB) September 13, 2016
Customer experience leader BirdEye today announced the release of Athena, an enhanced Natural Language Processing (NLP) engine that provides businesses with actionable insights on feedback from their own and their competitors' customers. Athena is built for operational leaders to make customer experience improvements that drive tangible results.
While most text analytics tools measure demographics and customer segments, Athena focuses on customer experience — identifies the root cause of positive and negative sentiment surrounding each customer comment. It provides the "why" and "where" behind open-ended comment data so operational leaders can turn insights into action at the frontlines.
BirdEye's Athena offers insights in a three-tiered hierarchy:
1) Business level: What are the top positive and negative themes for the overall business?
2) Sentiment level: What keywords & adjectives do customers frequently use to describe these themes?
3) Location/product level: Where can managers go to fix issues or replicate positive performance?
With Athena, businesses can build out a profile of what customers are happy or unhappy about by discovering "adjectives" around keywords. For example, if a restaurant sees that customer sentiment for "pizza crust" is overwhelmingly negative, management can delve deeper to find the root cause and learn their crust is frequently described as "soggy". Athena displays which locations have the most mentions of soggy crusts so the business knows where to go to fix the issue. After management makes changes, Athena's trend analysis feature shows if negative mentions for "pizza crust" decrease.
Athena's Business Alert feature intelligently detects themes from individual transactions and informs leadership of trending issues. For example, if a car rental company's Cincinnati location receives a surge of complaints about dirty cars, leadership will receive an alert to call that location manager and fix the issue.
"Athena is not an analytics product, it's a get-it-done product. As a COO, I'm not interested in demographic data, I just want to find the problems and fix them to make our customers happy. Athena does that for me." said Neeraj Gupta, COO at BirdEye.
Not only can businesses analyze their own customer insights--BirdEye gives them access to their competitors' data as well. With Athena, businesses can benchmark operational performance to understand exactly what customers prefer about the competition and where adjustments could be made for a competitive advantage.
"Sentiment analysis on competitors is a game-changer." said Jerry Yang, co-founder of Yahoo and AME Cloud Ventures. "BirdEye is crunching feedback from millions of customer conversations. Athena converts all this unstructured data into straightforward insights so a business knows how they compare to the competition across critical operational metrics."
To see the complete picture in context, Athena offers businesses the full flexibility to zoom in on the verbatim customer feedback where themes are mentioned for them and their competitors at both a brand and location level.
"Every customer comment is an opportunity to learn and improve," said Naveen Gupta, CEO at BirdEye "Athena brings hard data to life and gives businesses the intel to completely redefine customer experience from the ground up."
About BirdEye: BirdEye is a SaaS platform that reimagines the way customer feedback is used to acquire and retain connected customers by closing the loop between reputation marketing and customer experience. The BirdEye platform enables businesses to get new reviews and captures existing customer sentiment from review sites, social media, Net Promoter Scores, and support cases in real-time. BirdEye converts all feedback into actionable insights so businesses can engage in every step of the customer journey, establish a positive online presence, and benchmark performance across locations and against competitors. In today's reputation economy, BirdEye provides the eyes, ears and algorithms necessary to create a standout customer experience that pleases a consumer society reliant on instant gratification. BirdEye platform is trusted by 10,000+ businesses and prominent F1000 enterprises. BirdEye was founded in 2012 by Google, Yahoo, Amazon alumni and backed by Silicon Valley's who incl. Trinity ventures, Salesforce founder Marc Benioff and Yahoo co-founder Jerry Yang.
Contact: Helen Irias, pr(at)birdeye(dot)com
Phone # 1-800-561-3357