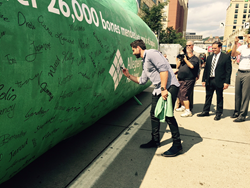 Pittsburgh, PA (PRWEB) September 12, 2016
Thousands of people flocked to Allegheny Health Network's cast of thousands (of names) over the weekend as AHN set what is believed to be the world's largest cast – a 30-foot long, 14-foot tall, 10-foot wide replica of an orthopaedic arm cast – on Federal Street outside PNC Park. Made of aluminum, steel and fabric meshing, the cast featured thousands of names representing the more than 26,000 broken bones AHN doctors mended in western Pennsylvania last year.
The most recognizable name on the cast was added Saturday afternoon, when Pittsburgh Pirates catcher Francisco Cervelli stopped by to add his signature. AHN orthopaedic specialists repaired a broken bone in Cervelli's hand earlier this season, providing a level of care and expertise that allowed him to return to the lineup two weeks ahead of schedule.
Cervelli was joined at Saturday's cast-signing by Edward Birdsong, MD, Vice Chairman of Patient Safety and Quality for AHN and the orthopaedic surgeon who repaired Cervelli's broken hand along with Patrick DeMeo, MD, Chairperson of AHN's Department of Orthopaedic Surgery and Medical Director for the Pirates. Edward Snell, MD, an AHN sports medicine specialist and a team physician for the Pirates, also was on hand Saturday as Cervelli etched his name on the record-setting cast.
For highly specialized and advanced levels of orthopaedic care, AHN's seven hospitals and 17 orthopaedic rehabilitation centers across western Pennsylvania and eastern Ohio offer innovative surgeries, minimally invasive procedures and advanced rehabilitation that help athletes recover faster and with less post-operative pain.
In addition to being the official medical provider of the Pirates, AHN gained official Olympic Regional Medical Center designation in 2014. In doing so, it joined an exclusive national network of six leading health care organizations selected by the USOC to provide care for Olympic athletes through its National Medical Network.
About Allegheny Health Network
Allegheny Health Network, part of Highmark Health, is an integrated healthcare delivery system serving the Western Pennsylvania region. The Network is comprised of eight hospitals, including its flagship academic medical center Allegheny General Hospital, Allegheny Valley Hospital, Canonsburg Hospital, Forbes Hospital, Jefferson Hospital, Saint Vincent Hospital, Westfield Memorial Hospital and West Penn Hospital; a research institute; Health + Wellness Pavilions; an employed physician organization, home and community based health services and a group purchasing organization. The Network employs approximately 17,500 people and has more than 2,800 physicians on its medical staff. The Network also serves as a clinical campus for Drexel University College of Medicine, Temple University School of Medicine and the Lake Erie College of Osteopathic Medicine.
###