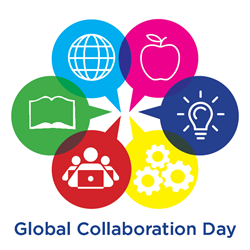 Global Education Day is an authentic opportunity for all education stakeholders to learn from each other across the globe. It is a demonstration of the possibilities of global collaboration.
Northbrook, Illinois (PRWEB) September 14, 2016
The Global Education Conference Network presents Global Collaboration Day, its second annual celebration of globally connected teaching and learning on September 15, 2016. More than 100 schools and organizations from around the globe will actively participate in over 50 online events that support the development of global competence in students and teachers.
The primary goal of this 24-hour event is to connect learners, educators, and global education organizations around the world through fun and engaging activities. Global Collaboration Day is also an opportunity for sharing best practices related to educational technology tools, project-based learning, and other related initiatives and resources. Experienced global educators will model globally connected teaching and learning for those new to fostering global connections in education.
Global Collaboration Day will also help teachers address the new International Society for Technology in Education (ISTE) student standards which call for today's kids to become empowered learners, digital citizens, knowledge constructors, innovative designers, computational thinkers, creative communicators, and global collaborators. Global Education Day events range from mystery Skype calls where students guess the location of another class through a series of questions to professional learning Twitter chats to global studies projects related to the United Nation's Sustainable Development Goals.
For more information, check out the Global Collaboration Day website at http://globalcollaborationday.org. Also, make sure to follow all the Global Collaboration Day happenings on Twitter by searching for the hashtag #globaled16. This event is made possible by companies who believe in the possibilities of globally powered teaching and learning: VIF International Education, Google for Education, iEARN-USA, and Edmodo.