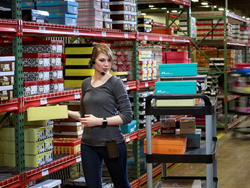 Birmingham, England (PRWEB UK) 13 September 2016
Lucas Systems, the leading provider of solutions for intelligent mobile work execution for warehouses and distribution centres, today announced new certified smartphones, tablets and accessories for use with Lucas Move mobile applications, which now support RFID and NFC (near field communications) in addition to barcode scanning and voice. Lucas will be demonstrating Lucas Move voice picking applications on a range of mobile devices, smart watches and wearable accessories this week in Stand Number 8C20 at the IMHX intralogistics trade show.
Lucas Move, featuring Jennifer, is the Lucas mobile application for voice-picking and other warehouse applications. Jennifer is the intelligent voice "agent" that guides users through their tasks using a combination of voice direction, speech recognition, visual user interfaces, and barcode scanning. Lucas Move now also supports the use of RFID and NFC technology within the Jennifer voice-directed workflow, providing new means for asset and item identification, data capture, and location confirmation. NFC has gained wide adoption in mobile payments and other applications, and it is supported on all Android smartphones certified for use with Lucas Move.
"NFC is becoming ubiquitous in everyday life, and it has many powerful uses within the warehouse," said Andrew Southgate, General Manager of Lucas Systems EMEA. "The technology is supported on all of our certified Android devices, as well as many of the traditional warehouse mobile computers our customers use today with Lucas Move. In that sense, there is no cost to customers to add the technology, and we already see applications where it can make tasks more efficient, ergonomic and easy for users. Not only does this help hourly employees work smarter and better, it also boosts their productivity and accuracy."
At IMHX, Lucas is also announcing that it has certified additional ruggedised smartphones, tablets and other "smart" accessories for use with Lucas Move, including external RFID and NFC readers and barcode scanners. All of the new devices are available with a range of hardened cases meeting military standards (MIL-STD-810 or greater) for drop/tumble/vibration protection that meet or exceed the protection ratings of other warehouse devices currently used with Lucas Move. The new certified devices are:

Samsung Galaxy S6
Samsung Galaxy Tab A (8.0 and 9.7)
Motorola Droid Turbo 2
LG Nexus 5X
About Lucas Systems
Since 1998, Lucas Systems has pioneered warehouse productivity solutions for mobile workers and distribution centre managers. Customers like Cardinal Health, C&S Wholesale Grocers, HD Supply, Office Depot/OfficeMax, Mondelez, Kraft and Rust-Oleum trust Lucas to deliver solutions that greatly improve worker productivity and accuracy because Lucas truly understands warehouse operations. Lucas Mobile Work Execution solutions optimise hands-on processes and seamlessly combine voice, barcode scanning, and other mobile technologies to improve worker productivity, eliminate errors, and boost end-to-end DC efficiency. The solutions also provide managers and supervisors with real-time reporting and management tools that help them better manage their operations. For more information, visit http://www.lucasware.com