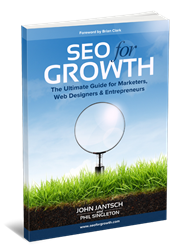 This book will take the mystery out of SEO and Google rankings in one weekend.
Kansas City, MO (PRWEB) September 16, 2016
Today, John Jantsch, Wall Street Journal bestselling author of Duct Tape Marketing, and Phil Singleton of Kansas City SEO®, release SEO for Growth: The Ultimate Guide for Marketers, Web Designers & Entrepreneurs.
Search engine optimization, also known as SEO, is a marketing term that describes the process of getting the highest possible visibility in a search engine's unpaid search results.
According to co-author John Jantsch, "Internet searching is unavoidable – it's become part of the modern purchase process. As marketers and business owners, we need to treat search engine optimization not only as a growth channel, but as a foundational 'channel of channels' that integrates fully with the overall marketing plan. SEO for Growth provides the roadmap you need to integrate SEO into your business."
"Today, your website is the key to marketing," says co-author Phil Singleton, "we wrote this to be sort of a top level, executive MBA program for SEO. We break down SEO and inbound marketing in a way that executives and business owners can relate to. Then we show them how to connect the dots."
SEO for Growth has received dozens of endorsements from renowned digital marketing experts:
"John and Phil hit the nail on the head. The way people shop and buy has fundamentally changed, an inbound strategy is now a necessity for getting found online and growing your business." - Brian Halligan, Co-founder and CEO, HubSpot
"Business owners really need to read SEO for Growth. This book will take the mystery out of SEO and Google rankings in one weekend." - Michael Port, NY Times Bestselling Author of Book Yourself Solid
"Too many web designers and business owners treat SEO as an afterthought. SEO for Growth will show you how to build a lead generating website from the ground up." - Larry Kim, Founder and CTO, WordStream, Inc.
"Networking and referral marketing will always be critical small business marketing tactics, but today's buyer often follows a word-of-mouth recommendation with a Google search. SEO for Growth will show you how to create a web presence that will help you convert more of your referral leads." - Dr. Ivan Misner, founder of BNI and NY Times Bestselling Co-author of Masters of Networking
SEO for Growth is available for sale on major online retailers and can be purchased directly at:
https://seoforgrowth.com
For a limited time, all verified purchases of SEO for Growth (both print and electronic versions) will receive three popular eBooks on the topics of Local SEO, Website Traffic Generation and WordPress SEO Optimization. For more information on where and how to claim the special bonus offers, visit: https://seoforgrowth.com/seo-book/