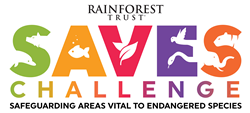 "Our priority is to help save the last great wildlife habitats on Earth before it is too late," said Dr. Paul Salaman, CEO Rainforest Trust.
Warrenton, Virginia (PRWEB) September 14, 2016
Rainforest Trust has launched the SAVES (Safeguarding Areas Vital to Endangered Species) Challenge at the International Union for Conservation of Nature (IUCN) World Conservation Congress (WCC) in Hawaii. Through this initiative, Rainforest Trust has committed to raise $50 million as a challenge match that will direct a total of $100 million to create new Protected Areas throughout the tropics for the planet's most endangered species.
This announcement coincides with President Barack Obama's protection of Endangered species through the expansion of Papahānaumokuākea Marine National Monument, creating the largest Protected Area on the planet. The President recently noted that conservation is critical to the world's ecosystems, and he emphasized the urgency and importance of conservation efforts.
Since 1988, U.S.-based Rainforest Trust has partnered with local conservation organizations across the globe to strategically create over 100 new Protected Areas toward a goal of saving 50 million acres of threatened habitat by the year 2020.
Just this year, Rainforest Trust has helped establish nearly 5 million acres of critical Protected Areas across Latin America, Asia and Africa. Most recently, Rainforest Trust worked with a local partner in the Democratic Republic of the Congo to create a massive Protected Area, which is almost equal in size to Yellowstone National Park. The nearly 2.2 million-acre Lomami National Park secures biodiverse habitat that is vital for a host of threatened species.
"Rainforest Trust has my highest respect and in my opinion deserves support," said E.O. Wilson, a distinguished conservationist and two-time Pulitzer Prize winner who is regarded as the 'father of biodiversity'. "The [organization] is a model of what international conservation efforts should be."
Wilson met with Rainforest Trust CEO Dr. Paul Salaman at the World Conservation Congress and was supportive of the SAVES Challenge announcement.
As part of the SAVES Challenge, Rainforest Trust seeks to drastically grow its efforts by forging new strategic alliances with in-country organizations that will assist in securing more land for species assessed as Endangered or Critically Endangered on the IUCN Red List of Threatened Species.
"Our priority is to help save the last great wildlife habitats on Earth before it is too late," said Salaman. "We are determined to do so through the SAVES Challenge, and we invite all conservationists and philanthropists to join us. We need to act now to ensure these areas are protected while they still exist."
####
About Rainforest Trust
Rainforest Trust is a nonprofit conservation organization focused on saving rainforests and endangered species in partnership with local conservation leaders and communities. Since its founding in 1988, Rainforest Trust has helped protect over 15 million acres of rainforest and other tropical habitats in more than 100 project sites around the world. Rainforest Trust has a 4-star rating from Charity Navigator, and 100 percent of project gifts directly fund vital conservation action.
Contact:
Marc Ford
Rainforest Trust Outreach Strategist
Marc(at)RainforestTrust(dot)org