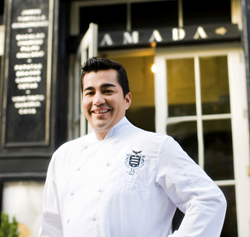 "XtraChef provides us a scalable and efficient solution to manage the growth at Garces. Their team has been very responsive to our needs, and we look forward to deploying this solution across our group." Yousuf Hasan, CFO Garces Group
Philadelphia, PA (PRWEB) September 14, 2016
The Garces Group has chosen xtraChef's disruptive mobile technology (http://www.xtrachef.com) to automate paper-invoice processing at their Buena Onda (Philadelphia, PA) and Distrito (Moorestown, NJ) locations, and plans to implement it at all of their locations in the near future including the newly opened Amada at Brookfield Place (NYC-BPC). The deal brings xtraChef into cooperation with renowned Chef Jose Garces's Philadelphia-based restaurant group and establishes the hot start-up as a major contributor in the city's fast-growing Food+Tech industry.
"XtraChef provides us a scalable and efficient solution to manage the growth at Garces. Their team has been very responsive to our needs, and we look forward to working with XtraChef and deploying this solution across our group," explained Yousuf Hasan, CFO of Garces Group
XtraChef packages a sustainable technology in a unique architecture that provides an innovative and economically feasible solution to an archaic process in dire need of an update.
"I've been a huge fan of Jose Garces for a while now and it feels great to have him and his group leveraging xtraCHEF to improve their operations related to cost management and accounts payable," commented Andy Schwartz, Founder of xtraCHEF
About xtraCHEF:
XtraChef is a mobile, subscription-based application that captures, digitizes, maps, and auto-codes vendor invoices and purchase inventory in real-time. Extraction technology reads an invoice image line-by-line, warehouses it in the Cloud, and provides timely and accurate reporting that allows restaurants to gain transparency in their workflow and to have a firm grasp on their daily spending across multiple outlets from a simple and easy to use platform. XtraChef lets you control your kitchen's operations from the palm of your hand. We are the inexpensive and disruptive tool you have been waiting for. It's that simple.
About The Garces Group:
Garces is a Philadelphia-based hospitality group specializing in personal dining experiences rooted in the rich cultural traditions and culinary vision of renowned Latin-American chef Jose Garces. Taking a heartfelt and creative approach to time-honored recipes and dishes, Garces operates more than 15 restaurants across the country, including Amada, Distrito, Tinto, Village Whiskey, Garces Trading Company, JG Domestic, El Jefe, Volvér, Rural Society, The Olde Bar, Buena Onda and Mercat a la Planxa (in partnership with Sage Hospitality). The eponymous group also offers additional services through Garces Events, a full-service catering and event division; the Garces Foundation, a philanthropic organization dedicated to Philadelphia's underserved immigrant community; and Luna Farm, Chef Garces' 40-acre farm in Bucks County, Pa. For more information about Garces Restaurants, Garces Events, the Garces Foundation, Luna Farm or founder and James Beard Award-winning Iron Chef Jose Garces, please visit GarcesGroup.com and follow them on Facebook, Twitter, Instagram, Pinterest and LinkedIn.