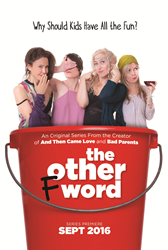 Amazon reviewers are raving about the new series – a fantastic story line with universal stories that all can relate to.
New York, New York (PRWEB) September 15, 2016
Award-winning filmmaker Caytha Jentis (Bad Parents, And Then Came Love) just launched a vibrant new series which is now streaming on Amazon Prime. Jentis' series, The Other F Word, is at the fingertips of moms who are struggling an empty nest, and need a character driven show to get hooked on. This riveting new series whose cast includes names such as: Steve Guttenberg (Police Academy), Michael Boatman (The Good Wife), Reiko Aylesworth (24), Judy Gold (Jim Gaffigan Show) and Ben Bailey (Cash Cab), addresses issues like ageism, sexism, re-entering the workforce, sexuality for women 40+, dating after divorce/widowhood and more. At its heart, the series is about finding oneself after the kids are grown – an adult coming of age in mid-life.
"Thanks to Caytha Jentis and her amazing team, the lost art of television has been brought back to life in this web series. Acted out by real A-listers, these stories come to life.... I'm usually out the door after shooting.. .but after 3 minutes, I got absorbed in the characters and their situations and stayed." — Steve Mack, Getty Images Photographer
Amazon reviewers are raving about the new series – a unique story line with universal stories that all can relate to. And who doesn't love to pull up a glass of wine and a blanket and binge watch a great comedy on Amazon? There are already women in line waiting for season 2. Amazon makes it simple to stream and get hooked until the very last episode.
Caytha is pleased with the series being available for viewers on amazon. "Amazon is a great platform for us. While you don't need to be a Prime member to watch, for those that are they can easily watch our show through their smart TV's as well as their computers or tablets and its ad free. Also, Amazon only wants shows that have high production value as it stands alongside the shows they produce. Lastly, we have the possibility of moving up in the company and we can grow to a more traditional length show if we show that we have the audience. The positive reviews go a long way."
The series, released on September 1st, seems perfectly timed as women 40+ continue to be a powerful, healthy and wealthy constituent group. Women today are seeing history in the making as middle-aged women take center stage and join with their younger counterpart, historically adding a deep crack in the glass ceiling and demonstrating that numbers do not define them, nor can any barriers contain their joie de vivre. Life doesn't end after 30, it gets richer with age.
"It's time the world knew the power of "The Other F Word!" Thank you for bringing a Vibrant perspective to the forefront." — Carla Dearing, Vibrant Nation
Viewers can watch all eight episodes, which are available now on Amazon http://tinyurl.com/TOFWseries.
The Other F Word was created and directed by Caytha Jentis and produced by Emmy-Award winner, Kathleen McDonough who was also the series' production designer. David Landau, a five-time Telly Award winner served as director of photography, and Leslie Cimino, also an Emmy award-winner was associate producer on this project.
# # #
ABOUT FOX MEADOW FILMS
Founded in 2006 by writer/director/producer Caytha Jentis, Fox Meadow Films is an East Coast-based independent film and television production company.