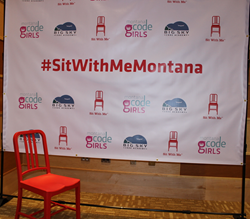 Participating in the White House #CSforAll initiative, gives Montana Code Girls the opportunity to showcase our efforts on the national stage.
Missoula, MT (PRWEB) September 14, 2016
Today, the White House announced new commitments made by organizations nationwide to President Obama's #CSforAll initiative. Montana Code Girls joins over 200 organizations in making a commitment to continue to expand its after school program so that all girls in Montana have access to Computer Science (CS) education.
"In his 2016 State of the Union address, President Obama challenged the nation to offer "every student hands-on computer science and math classes" and Montana Code Girls does just that." said Devin B. Holmes, Montana Code Girls and Big Sky Code Academy Founder. "We are excited to be part of the nationwide response to the President's broad call to action to expand CS education in K-12 classrooms."
With its inaugural statewide launch underway for the 2016 – 2017 academic year, Montana Code Girls has over 45 girls already registered to participate with a goal of 150 participants statewide. Montana Code Girls learn computer science and mobile app programming skills during the year and have an opportunity to compete for scholarship funds as part of the global Technovation Challenge. Montana Code Girls also launched its #SitWithMeMontana campaign earlier this summer joining the national Sit With Me campaign to validate and recognize the important role women play in creating future technology by taking a small but symbolic action: sitting in a red chair and sharing your story.
The White House will livestream the White House Computer Science for All Summit on Wednesday September 14th at 11am – 1pm MDT at: http://www.whitehouse.gov/live
For more information about Big Sky Code Academy's Montana Code Girls initiative, please visit: http://www.mtcodegirls.org
About Big Sky Code Academy™
The Big Sky Code Academy is an accelerated coding boot camp offering online and on-site immersive training for the next generation of programmers. Designed to enable and empower all Montanans, the Academy recently launched two additional initiatives, Montana Code Girls™, and Code4Philanthropy™. Montana Code Girls offers events, after-school programs and summer camps to Montana's girls and young women interested in technology, including sponsoring Montana's Technovation Challenge teams, while Code4Philanthropy Fellows are placed with nonprofits across the state for a 12-month technology fellowship. To learn more, visit: bigskycodeacademy.org
###