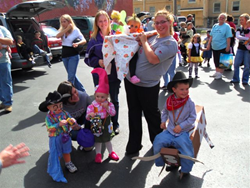 Duncan, OK (PRWEB) October 18, 2016
Main Street Duncan's Boo Review makes October 29th a full day of wholesome pre-Halloween fun. Boo Review will be a host of exciting activities, contests and lots of treats for your little goblins. Creep your way throughout downtown and see all of the friendly characters that line the streets giving away candy. The business owners in downtown love to see all of the cute costumes and put smiles on kids' faces as they say "Trick or Treat". Also included is a pumpkin carving contest hosted by Distinctive Decor with proceeds benefiting the Stephens County Humane Society. Other activities include music, haunted house, costume contest, and more!
The Boo Review is brought to the community every year by Main Street Duncan, whose mission is to preserve the heritage of the Downtown Duncan Historic District, which includes 7th to 11th streets from Oak to Willow. Main Street Duncan works tirelessly to provide family friendly events for the community. It is the organizer of the "Cruisin the Chisholm Trail" Car and Motorcycle in April, the "Holiday Stroll" in November and the Christmas Parade in December.
The 8th Annual Family Fall Festival and Haunted Mansion is returning to Duncan on Saturday, October 29th as well and will be even bigger and better than last year. From spooky to friendly, the Simmons Center's Family Fall Fest has it all.
Come enjoy food, games, magic show and haunted mansion with the whole family. The carnival will run from 1:00-5:00 PM with unlimited games, rides, giant inflatables and more! Cost ranges from $7.00-15.00 per person. The magic show will begin at 5:30 PM in the Simmons Center theatre, with a price of $2.00 per adult or $1.00 per child. With each purchase of an adult ticket, two child tickets will be included.
On the evening of Oct 29, don't forget to stop by for a hauntingly good time at the Haunted Mansion at the Simmons Center. You may purchase tickets for $8.00 per person and will be available at the door beginning at 7:00 PM. Enter if you dare and prepare to be scared by whatever may jump out at you during your stroll. Not recommended for children under 8 yrs of age.
For more information regarding the Boo Review, please contact Main Street Duncan at 580-252-8696. For more information regarding the Family Fall Fest, please contact the Simmons Center at 580-252-2900. For other spooktacular family fun, visit http://www.duncancalendar.com.