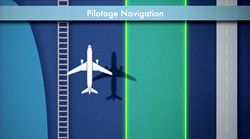 "The legacy classroom and e-learning models simply don't do enough to inspire today's learners. We've created a game changer - a course that not only alters the way aviation professionals learn, but also how we measure what they have learned," said Weir.
Los Angeles, CA (PRWEB) September 19, 2016
The results are in and Fulcrum Labs has won a prestigious Brandon Hall award for its works with Allegiant Travel Company, earning Best Advance in Compliance Training for the Flight Operations Basic Indoctrination training course. Often called the "Academy Awards" by the Learning & Development industry, the award recognizes Fulcrum for the creation of a highly engaging, efficient and effective path to demonstrate compliance, a noteworthy advancement for this traditionally lackluster curriculum. The new Basic Indoctrination course is the first in the aviation industry to use adaptive technology, custom content and a personalized learning approach.
All commercial pilots are required by the FAA to take the Basic Indoctrination course anytime they join a new airline, regardless of experience. The course has been virtually unchanged since 1960 because it's considered "standard" information and is overlooked regarding curricular innovation. This created an opportunity for Fulcrum Labs to work with Allegiant to create a state-of-the-art adaptive, personalized learning experience that motivates learners and measures performance.
"As a low-cost carrier, we are always interested in approaches to compliance training that bring us savings both in time and money. Moving much of our ground school to an online format and out of the classroom, gives our new hire pilots the convenience of self-paced, at-home learning. But personalized, adaptive training also brings us the peace of mind that our pilots have truly achieved mastery at every step of their training. It also gives us the analytics we need to be more effective and efficient in our training approach," said Daniel McCoy, Chief Learning Officer at Allegiant Air.
Brandon Hall analyzed both the technology platform and the training curriculum and content of the Basic Indoctrination course, which is a computer-based asynchronous course that features an adaptive engine and gaming theory to engage students while helping them to achieve mastery of the subject matter. As students work through scaffolded content and choose their personalized path for learning, they can watch videos, read e-book style notes and practice with interactive activities. As students work through a set of activities, the adaptive engine adjusts on-the-fly, serving up questions and interactions that offer an appropriate level of challenge - neither too hard nor too easy - or what is also known as Optimal Challenge. In fact, no student can pass through a section without meeting the score criteria, which means, at some point, every student has to answer higher order thinking questions to prove mastery.
"The legacy classroom and e-learning models simply don't do enough to inspire today's learners. Together with Allegiant, we've created a game-changer - a course that not only alters the way aviation professionals learn, but also how we measure what they have learned," said Patrick Weir, CEO of Fulcrum Labs. "Each student has a unique path to mastery and proves competency by working through relevant activities, while data analytics tell us exactly the depth and degree to which a concept has been mastered. This coveted award is a testament to our innovative approach to compliance management."
Flight Operations Basic InDoctrination is part of Fulcrum's growing library of personalized aviation courses. They have also created training courses for Airbus A320 Aircraft Systems, MD-80 Aircraft Systems, and Stations New Hire Training for Customer Service Agents, Ground Operations Agents, and Complaint Resolution Agents. Their Flight Ops General Subjects course will launch in May 2017.
About Fulcrum Labs
Founded in 2014, Fulcrum Labs is a scalable, personalized learning SaaS platform and full-service Digital Learning and Development Agency for organizations tired of DIY instructional tools and death by PowerPoint. Fulcrum combines proven cognitive science and adaptive learning technology with the storytelling power of award-winning animators and production veterans to bring engaging, personalized content to the education, career training and professional development sector. Fulcrum Labs turns instructional material and learning objectives into engaging, ready-to-use online courses and powers them with its adaptive SaaS platform to turn students and employees into learners and confident subject matter masters. For more information, please visit http://www.the-fulcrum.com
About the Brandon Hall Group
Brandon Hall Group is a HCM research and advisory services firm that provides insights around key performance areas, including Learning and Development, Talent Management, Leadership Development, Talent Acquisition and Workforce Management. With more than 10,000 clients globally and 20 years of delivering world-class research and advisory services, Brandon Hall Group is focused on developing research that drives performance in emerging and large organizations, and provides strategic insights for executives and practitioners responsible for growth and business results. Click here to learn more.
About the Brandon Hall Group HCM Excellence Awards Program
Now entering its 21st year, the Brandon Hall Group HCM Excellence Awards Program is the most prestigious awards program in the industry. Often times called the "Academy Awards" by Learning, Talent and Business Executives, the program was one of the first of its kind in the learning industry, which was pioneered in 1994. The awards program attracts entrants from leading corporations around the world, as well as mid-market and smaller firms.