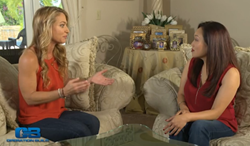 Allergies affect adults and children everywhere and what they don't know is that the bulk of their problems could be spanning from inside their homes.
FORT LAUDERDALE, Fla. (PRWEB) September 14, 2016
Airbiotics' COO, Amanda Ortiz, will be featured on an episode of Operation Build and interviewed by Operation Build team member, Andi Tilis. They will discuss the benefits and uses of the probiotic cleaning formula patented by Airbiotics and showcase the All Purpose Cleaner and the StaBiotic™ Mist from the cleaning line.
On average people spend 90% of their time indoors while indoor air is the fourth worst environmental threat to their health. Airbiotics invented and pioneered the cleaning solution, StaBiotics™, which harnesses the natural cleaning power of external probiotics. The beneficial probiotic bacteria work against indoor allergens and pathogens we face at home or work, like pet dander, mold, dust and mildew and create a positive balance that promotes clean, allergy free air and reduces odors.
Operation Build will feature a family with a daughter that suffers from pet dander allergies and was having to take medication for them daily. After using Airbiotics products around their home the daughter experienced relief from her allergies.
"Allergies affect adults and children everywhere and what they don't know is that the bulk of their problems could be spawning from inside their homes. Using chemical cleaners to try to stabilize them are only making it worse and are not as effective as the public thinks. We want to inform people of Airbiotics' natural and sustainable formula that works to relieve allergy and upper respiratory problems at the source and contributes to our good health, "Amanda Ortiz, COO, Airbiotics.
In a clinical study performed by the Princeton Consumer Research Corporation, 67% of users felt their allergy symptoms were improved with the use of the cleaning products and 51% reported that they felt their allergy symptoms were alleviated with only one use of the cleaning regimen.
To catch the full interview, tune in to Operation Build Saturday, September 17, 2016 on A&E at 7:00am ET/PT and again on Saturday, September 24, 2016 on FYI at 7:30am ET/PT.
###
About Airbiotics
Airbiotics is a line of eco-friendly products that use an all-natural probiotic formula in order to create a healthier, safer and more balanced indoor environment at home and on-the-go. The StaBiotic™ formula infuses indoor air with probiotics that work to protect indoor environments and create a healthy balance of bacteria that is conducive to our wellbeing and lifestyle.
The line of products is clinically and dermatologist tested to be all natural and Non-GMO, hypoallergenic, biodegradable and food-grade.