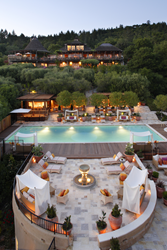 "We are honored by this recognition from the readers of Andrew Harper's Hideaway Report, showcasing our commitment to offering distinctive and exceptional travel experiences across the world." - Craig Reid, CEO, Auberge Resorts Collection
Mill Valley, California (PRWEB) September 15, 2016
California-based Auberge Resorts Collection announces a trio of iconic resorts honored among the world's best in the 2016 Readers' Choice Awards from Andrew Harper's Hideaway Report, a print and digital newsletter founded in 1979 and renowned as one of the most respected publication in luxury travel. The annual readers' poll showcases the best hotels and resorts, safari lodges and cruise lines, and is now available online at http://www.andrewharper.com/readers-choice and appears in the September 2016 issue.
Taking the top spot among domestic resorts, Auberge du Soleil in Napa Valley was named the No. 1 Top U.S. Hideaway, while neighboring sister property Calistoga Ranch was voted No. 3 Top U.S. Hideaway. Recognized additionally for excellence in both culinary and spa categories, Auberge Resorts Collection's Napa Valley resorts were awarded among the best Food and Wine Resorts and Top Spa Resorts. Esperanza in Cabo San Lucas, Mexico, was awarded No. 9 Beach Resort. The full list of 2016 Readers' Choice Awards accolades for Auberge Resorts Collection follows:

Auberge du Soleil (Napa Valley) – No. 1 Top 20 U.S. Hideaway; No. 5 Top Spa Resort; No. 2 Food and Wine Resort
Calistoga Ranch (Napa Valley) – No. 3 Top 20 U.S. Hideaway; No. 4 Top Spa Resort; No. 6 Food and Wine Resort
Esperanza (Cabo San Lucas, Mexico) – No. 9 Top Beach Resort
"We are honored by this recognition from the readers of Andrew Harper's Hideaway Report, showcasing our commitment to offering distinctive and exceptional travel experiences across the world," said Craig Reid, President and Chief Executive Officer, Auberge Resorts Collection. "These awards would not be possible without our team's heartfelt commitment to excellence in guest service across all properties, whether in Napa Valley's wine country or the beaches of Cabo San Lucas, Mexico."
Results for the Readers' Choice Awards are determined from an annual survey where subscribers of Andrew Harper's Hideaway Report choose their favorite hotel and resort experiences across the categories of U.S. and International Hideaways, Beach, City, Food & Wine, Spa, Golf, Family and Safari Lodges in addition to Cruise Lines.
About Auberge Resorts Collection
Auberge Resorts Collection owns and operates a portfolio of exceptional hotels, resorts, residences and private clubs. While Auberge nurtures the individuality of each property, all share a crafted approach to luxury that is expressed through captivating design, exceptional cuisine and spas, and gracious yet unobtrusive service. Properties in the Auberge Resorts Collection include: Auberge du Soleil, Calistoga Ranch and Solage Calistoga, Napa Valley, Calif.; Esperanza and Chileno Bay Resort & Residences, Los Cabos, Mexico (opening December 2016); Hotel Jerome, Aspen, Colo.; Malliouhana, Anguilla; Nanuku, Fiji; The Auberge Residences at Element 52, Telluride, Colo.; Hacienda AltaGracia, Pérez Zeledón, Costa Rica; and Auberge Beach Residences and Spa Fort Lauderdale, with several others in development. For more information about Auberge Resorts Collection, please visit http://www.aubergeresorts.com/. Follow Auberge Resorts Collection on Facebook at facebook.com/AubergeResorts and on Twitter and Instagram at @AubergeResorts.