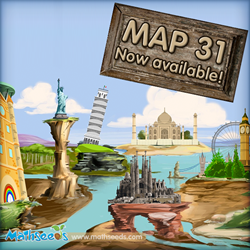 Each new lesson is based on a unique location where the Mathseeds characters look for new ways to use their math skills in the real world.
(PRWEB) September 16, 2016
The educational publishers behind Mathseeds—an interactive online math program designed for children aged three to eight—have released their latest map, featuring five new lessons.
Map 31 focuses on key mathematical skills and concepts for students in Grade 3, including counting 1000 to 5000, symmetry, number patterns, liters and milliliters, and multiplication.
Each new lesson is based on an exciting location where the Mathseeds characters—who are now all grown up—look for new ways to use their math skills in the real world, from counting flamingos in Lake Nakuru in Kenya to buying spices from the bustling Grand Bazaar in Turkey.
With the latest release, the comprehensive online math program now boasts 155 highly interactive math lessons, including hundreds of self-paced activities, fun songs, colorful animations, entertaining characters, and collectible rewards—designed to make learning math fun and motivating for young learners.
The Mathseeds program is developed by the same team of educational publishers behind the multi-award winning online reading program, Reading Eggs.
At the end of each map, children complete a multiple-choice quiz, and if they pass, are awarded a printable certificate. Parents and teachers can also access a personalized dashboard to track individual progress and download detailed reports.
Mathseeds also includes interactive, rewards-based assessments, such as Driving Tests and end-of-lesson quizzes, which help children reinforce key concepts covered in the lessons.
New users can claim a free two-week trial of Mathseeds by registering at http://www.mathseeds.com.