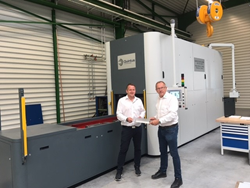 The Quintus fluid cell press is extremely well suited to meet customer requests for unique, complex components and assemblies in tough alloys. --Josef Eisele, Edelstahl-Mechanik
Västerås, Sweden (PRWEB) September 15, 2016
Germany's Edelstahl-Mechanik GmbH, a privately owned supplier of sheet metal parts primarily to the medical, white goods, and agricultural industries, is expanding capacity with a modern high-pressure fluid cell press from Sweden's Quintus Technologies.
Acquisition of the Flexform press is driven by the company's aggressive growth strategy, under the leadership of the Josef Eisele family. With the new press added to the company's equipment line-up, Edelstahl now has the ability to better serve customers by producing parts with complex geometries and free-form surfaces in a single manufacturing process, especially appropriate in low-volume applications. .
According to Hr. Josef Eisele, owner of the family-operated stainless steel specialist in Göppingen, "In many cases unique, complex components and assemblies are requested by our customers, typically also to be produced in relatively small volumes, in tough alloys, and with a delivery date requirement of tomorrow. These are all demands that the Quintus fluid cell press is extremely well suited to meet."
Up and running at the Edelstahl facility in Göppingen since August, the new press provides a press force of 17,000 tons over a forming area of 700 x 1800 mm (27.5 x 72 inches). The Flexform process operates with only one rigid tool half, the other tool half being a flexible rubber diaphragm under uniform hydrostatic pressure. This breakthrough design allows for significant reductions in both tool costs and lead times.
"The installation of the press at Edelstahl is important to us for many reasons," notes Jan Söderström, CEO of Quintus Technologies in Sweden. "The Eisele family has a strong foothold in the market for stainless steel products, and we see very positive synergies in our effort to expand the usage of the Flexform technology to markets outside Quintus's traditional business areas, historically focused on airframe manufacturing."
In addition, the partnership with the Eisele family provides Quintus with access to a skilled, qualified reference facility in central Europe, Mr. Söderström concludes.
Read more about Quintus Technologies at http://www.quintustechnologies.com
About Quintus Technologies
Quintus Technologies specializes in the design, manufacture, installation, and support of high-pressure systems for sheet metal forming and densification of advanced materials and critical industrial components. Headquartered in Västerås, Sweden, and represented in 35 countries worldwide, the company is the world leader in high-pressure technology and has delivered more than 1,800 systems to customers across the globe within industries such as aerospace, automotive, energy, and medical implants.
About Edelstahl-Mechanik
Edelstahl-Mechanik GmbH,together with its sister companies Edelstahl-Laser Technik GmbH and Edelstahl-LEFA GmbH, is a leader in the processing of stainless steel, aluminum, and steel. Equipped with machines incorporating the latest technologies, Edelstahl offers a broad range of complete sheet metal processing to well-known customers in all major industrial sectors. The company's goal is to provide extensive processing capabilities through wide-ranging technology integration, from simple cutting to complex assemblies, including construction services, all from one source.
Read more about Edelstahl: http://www.edelstahl-mechanik.de/