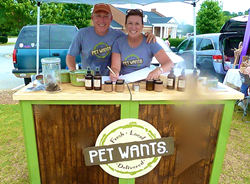 Pet Wants is an amazingly nutritious, fresh and convenient option for pet families and we're excited to bring that to this community.
Madison, GA (PRWEB) September 15, 2016
Sue and Bob Scherer have always had a passion for animals, so when they heard about Pet Wants, it sparked their interest. Now, just a few months later, the husband and wife team is proud to announce the launch of their new pet food business, Pet Wants of Madison.
Pet Wants' carefully developed proprietary pet food is slow-cooked in small batches with fresh, all-natural ingredients once a month to ensure that every kibble is fresh and packed with nutrition. Pet Wants also only sources the best salmon, chicken, lamb, brown rice and other ingredients available. There's no sugar added, no fillers and no animal by-products and, since Pet Wants never uses corn, wheat, soy or dyes, the food is a great fit for pets with allergies.
Pet Wants of Madison will have a storefront at 292 Hancock Street, which is slated to open in mid-September, as well as free mobile food delivery. The mobile delivery is available now and serves Rockdale County through the Lake Country.
"We knew we wanted to open a business, but we wanted it to be something we'd be happy doing for the rest of our lives. I knew Bernie Brozek (the president of Pet Wants) from a previous job and, when I saw him posting about Pet Wants on LinkedIn, I connected with him. We are pet fanatics and, after we learned about Pet Wants and went to Meet The Pack in Cincinnati, we knew this was what we wanted to do," Sue said.
Prior to launching Pet Wants, Sue spent 30 years in corporate America in management and sales, mostly in hospitality. Bob also works in sales and will continue to run his own agency, which is tied to the door and window manufacturing industry, alongside supporting Pet Wants. For Sue and Bob – both active animal rescue volunteers – the final decision to join Pet Wants really came down to the food.
"We don't have any kids of our own, so our pets are our fur babies. We've always tried to give them the very best, but the more we learned about the major pet food brands, the more we realized we were not only not giving the best, but some of what we put in their bowls was potentially harmful. Pet Wants is an amazingly nutritious, fresh and convenient option for pet families and we're excited to bring that to this community," Sue said.
In addition to being thrilled that families in Madison will be able to offer their pets a more nutritious food with Pet Wants, the corporate team is proud to announce that Pet Wants of Madison is the company's 50th franchise.
"Having Sue - a long-time business friend and awesome professional - mark our 50th franchise is really special and I'm excited that we could celebrate that milestone together. I'm looking forward to seeing Sue and Bob grow Pet Wants of Madison into a leading community business," Brozek said.
Pet Wants is now up to almost 60 franchises sold, but those additional franchise owners are still in the training and business launch process, Brozek said.
Sue is looking forward to starting the next chapter of her career working in a field she loves and supporting the pet community in Madison.
"Pet Wants isn't work – we've had a blast working on this business – and we're looking forward to growing the company in our community. We're also excited to work with local rescues and the humane society to make sure that animals in our community have access to high quality, fresh, nutritious food," she added.
Pet Wants originally launched in Cincinnati in 2010. Owned by Michele Hobbs, the business was built to provide proprietary crafted, fresh, slow-cooked, all-natural pet food delivered to customers through a retail store and a convenient home-delivery service. Hobbs, now the company founder, turned the business into a franchise in 2015 with the help of Franchise Funding Group, an investment and franchise-development company designed to help entrepreneurs scale their companies nationally as franchise systems.
To order Pet Wants food for your favorite companion or to learn about the company, call (706)521-2998, email SScherer(at)PetWants(dot)com or visit http://www.PetWantsMadison.com.
About Pet Wants: Pet Wants was started by Michele Hobbs out of love for her pets and frustration. Veterinarians were unable to help relieve her dog's painful skin allergies. After doing much research, Michele discovered the national dog food brand she trusted was not fresh, not all natural, and lacked sufficient nutrition...and when pet food sits in warehouses and store shelves for months and months… it loses even more nutritional value. She was committed to developing a better solution for all dogs and cats. Their food is exclusively crafted… fresh, healthy, slow-cooked and all natural with no sugar added, no fillers and no animal by-products. They source only the best salmon, chicken, lamb, brown rice, and other ingredients. Fresh ingredients make for better food… and better health for pets. And since they never use corn, wheat, soy or dyes, the common pet health problems associated with these ingredients are no longer worries. Their fresh food is conveniently delivered to the customer within weeks of production, not months. Roughly half of Pet Wants products are sold through their store and half through their convenient, home-delivery program. You can learn more at http://www.PetWants.com.