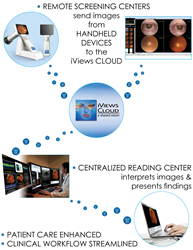 Eye care professionals running iViews with a network of referring family doctors utilizing handhelds are at a distinct advantage.
Dunedin, Florida (PRWEB) September 19, 2016
"Telemedicine" transfers medical information from one location to another via electronic communications for review. High quality handheld ophthalmology devices are now affordable tools to capture external and internal eye images. The iViews Telemedicine Solution captures and sends images real-time from general practitioners directly to ophthalmologists (reading centers) for review. This technologically streamlines referral networks allowing patient care to be expedited, increasing the clinical volume for eye care professionals, and provides a cost savings for healthcare.
Accountable Care Organizations (ACO) networks that manage many referrals are implementing technology to streamline efficient referral systems. The landscape is rapidly evolving for ACOs, providing preventative medicine and navigating government reimbursement policies. "State governments across the U.S. are leading the way in telemedicine expansion. According to a study by the Center for Connected Health Policy, during the 2015 legislative session, more than 200 pieces of telemedicine-related legislation were introduced in 42 states. It is expected that the global telemedicine market will expand at a compound annual growth rate of 14.3 percent through 2020, eventually reaching $36.2 billion, as compared to $14.3 billion in 2014." (Foley.com, Five Telemedicine Trends Transforming Health Care in 2016, November 16, 2015)
"Eye care professionals running iViews with a network of referring family doctors utilizing handhelds are at a distinct advantage. New handheld devices are affordable and can be put into the clinics to establish remote screening centers for general practitioners. These remote screening centers are networked through the iViews Telemedicine Cloud to send images from general practitioners to the reading center-ophthalmologists. The iViews Telemedicine Cloud provides HIPPA compliant DICOM storage with encrypted database and web access for viewing. The iViews Telemedicine Solution plays a pivotal role in the referral network and is sure to make the ACO business model work efficiently. The iViews Telemedicine Solution is an active process between general practitioners and ophthalmologists and provides the digital workflow in real-time. Truly a win-win for the patient" Paul Chace, CEO, iViews Imaging System, LLC.
For nearly a decade iViews Imaging System, LLC has been providing digital imaging solutions for eye care professionals nationwide working in teaching hospitals, universities, private clinics, and VA centers. The iViews Imaging Solution incorporates over 170 instruments and allow Regional or Global Collaboration for the possibility of better outcomes.
For more information or a demonstration of these solutions contact us today at our website or call 727-734-8393.