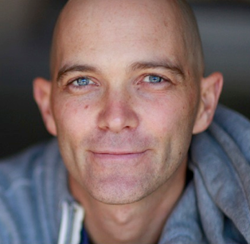 Taylor Mac's reaction to winning the 2015 Herb Alpert Award in the Arts, "this is amazing. It's a life changer! ... I wish I could press a button and make confetti go off!"
Los Angeles, CA (PRWEB) September 15, 2016
The wait is over. Taylor Mac's "staggering magnum opus" (The New York Times), A 24-Decade History of Popular Music, makes its world premiere at St. Ann's Warehouse, September 15 - October 8, culminating five years of development of the work at prestigious performing arts venues worldwide. In these glittering performance art concerts, presented by St. Ann's Warehouse and Pomegranate Arts, Mac charts a subjective history of the United States through 246 songs that were popular throughout the country, and in its disparate communities, from 1776 to the present day. Mac, a 24-piece orchestra and a vast group of special guests will perform this massive spectacle in two ways: as a series of concerts, each covering three decades and performed just once (with the exception of 1956-1986, due to popular demand), and in a one-time-only, non-stop, 24-hour marathon.
To create this epic work, Mac is collaborating with Matt Ray, who has arranged the show's 246 songs and leads the 24-member orchestra and four backup singers; costume designer Machine Dazzle, a longtime Mac collaborator who has handmade an outrageously imaginative, world-unto-itself costume specific to each decade; co-director Niegel Smith, who is helping Mac to realize a maximalist vision with 76 special guests, including burlesque dancers, toe-tapping Tiny Tims, and countless surprises; dramaturg Jocelyn Clarke; 2015 MacArthur Fellowship-winning set designer Mimi Lien, who has transformed St. Ann's vast, flexible space into a giant glittery dance hall/playground where Mac and the audience act out this monumental musical history lesson; and lighting designer John Torres, who contributes the exquisite artistry he has lent to the work of collaborators ranging from Robert Wilson to Kanye West. The creative team also includes sound designers Jamie McElhinney and David Schnirman / Hear No Evil Inc.; and makeup designer Anastasia Durasova. Jawole Willa Jo Zollar, founder of Urban Bush Women, serves as choreographic consultant.
The 24-decade concerts at St. Ann's are as follows:

September 15 at 7:30pm: Act I (1776-1806), "Founding Father Drag, Women's Lib, and Crazy Jane": Mac performs the rousing music of our nation in its infancy with a complete 24-piece orchestra, joined by backup singers and Brooklyn's own Choral Chameleon as the queerest Temperance Choir in the history of mankind.
September 17 at 7:30pm: Act II (1806-1836), "Young Love, Blindfolds, and Murder Ballads": Adding a brass ensemble and flute to make a 21-piece orchestra, Mac romps through the next three decades of Murder Ballads and a jukebox musical sure to be destined for Broadway.
September 20 at 7:30pm: Act III (1836-1866), "Puppets, Whitman, and Civil War Reenactment": Walt Whitman and Steven Foster go head to head for title of "Father of the American Song" as The Underground Railroad and The Civil War are reenacted with six puppeteers led by puppet designer Eric Avery and 18 musicians, featuring special guests Howard Fishman on banjo and Dan Zanes on mandolin.
September 22 at 7:30pm: Act IV (1866-1896), "Circus, Mikado, and the Oklahoma Land Rush": The Mikado on Mars! Heather Christian, Chris Giarmo, Crystal Lucas-Perry, and Maria-Christina Oliveras accompany Taylor on vocals, with LAVA dancers and an orchestra of 15.
September 24 at 7:30pm: Act V (1896-1926), "Tenements, Trenches, and Speakeasies": a Jewish tenement, a World War I trench reenactment, and a dance-off between 12 ukulele-playing Tiny Tims and 12 Charles Dickens Tiny Tims.
September 27 at 7:30pm: Act VI (1926-1956), "Harlem Renaissance, Prison Fantasies, and the Atomic Bomb": Oh, the Depression: Ain't it great? Also: zoot suit riots meet Japanese internment camps, and white people flee the cities.
September 30 & October 1 at 7:30pm Act VII (1956-1986), "A March, a Riot, and a Backroom Sex Party": Bayard Rustin's March on Washington leads to a queer riot and sexual deviance as revolution.
October 3 at 7:30pm Act VIII (1986-2016) "Direct Action, Radical Lesbians, and Originals": A community builds itself under siege, radical lesbians avenge, and Mac performs original songs written for 2016.
October 8 at 12pm noon: Marathon, Acts I – VIII (1776-2016)
As described by Art Forum, A 24-Decade History of Popular Music is a "face-wrenchingly funny…chronicle of sex, repression, expression, and community," and Mac is "a master performer, riveting storyteller, and charismatic, otherworldly creature." Scotland's The Herald writes, "After Mac has picked over the bones of the lyrics, razzed them up with his own nuances of phrasing and across-octaves delivery and then swung off into pungent, hilariously barbed riffs on the 20th century legacy of racism, gender discrimination and bigotry that we need to discard, even 'Jingle Bells' would sound political and you'd be asking: 'Who's doing the jingling?'"
A 24-Decade History of Popular Music is co-produced by Pomegranate Arts and Mac's production company, Nature's Darlings. Linda Brumbach serves as Executive Producer, and Alisa E. Regas is Associate Producer.
About TAYLOR MAC
Taylor Mac (Creator, Performer, Co-Director)—who uses "judy," lowercase sic, not as a name but as a gender pronoun—is a playwright, actor, singer-songwriter and performance artist. Mac's work has been performed at Lincoln Center; the BRIC Celebrate Brooklyn! Festival; London's Hackney Empire (with the LIFT Festival); UCLA's Royce Hall; San Francisco's Curran Theater, Magic Theater and MOMA; the Sydney Opera House; Minneapolis's Guthrie Theater; Chicago's MCA and Steppenwolf Theater; Stockholm's Sodra Teatern; the Spoleto Festival; and literally hundreds of other theaters, museums, music halls, opera houses and festivals around the globe. Mac is the author of seventeen full-length plays and performance pieces, including, most recently, Hir at Playwrights Horizons. The Children's Theater Company in Minneapolis has commissioned Mac's first all-ages play, The Fre. Recent acting roles include Shen Teh/Shui Ta in The Foundry Theater's production of Good Person of Szechwan at La Mama and the Public Theater, Puck/Egeus in the Classic Stage Company's A Midsummer's Night Dream, and in a vaudeville entitled The Last Two People On Earth, which judy created with Mandy Patinkin, director Susan Stroman, and Paul Ford. Mac is the recipient of a Guggenheim Award, The Doris Duke Award, The Herb Alpert Award in Theater, the Peter Zeisler Memorial Award, the Helen Merrill Playwriting Award, an OBIE Award (for judy's play The Lily's Revenge), and an Ethyl Eichelberger Award. Mac is currently the resident playwright at the HERE Arts Center and is a New Dramatists alum. http://www.taylormac.org work includes performing at the Edinburgh Fringe with Lady Rizo, and touring the world with Taylor Mac's A 24-Decade History of Popular Music. In addition, Ray music directed and played piano in Taylor Mac's OBIE Award-winning play The Lily's Revenge at the HERE Arts Center in New York. Ray has released two jazz albums as a leader, We Got It! (2001) and Lost in New York (2006); and one album of original pop/folk material called Songs for the Anonymous (2013). http://www.mattraymusic.com
Taylor Mac's reaction to winning the 2015 Herb Alpert Award in the Arts, "this is amazing. It's a life changer! I've been working kind of for free these last two years on this giant 24 Hour piece and now I'm even going to be able to pay my mortgage! I wish I could press a button and make confetti go off!"
See the extraordinary short film on the Herb Alpert Award in the Arts.