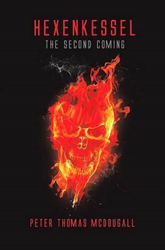 "This novel is not only a fascinating read, but presents a theory that is all too credible, mixed with the anything-is-possible world of science fiction." - Robert Fletcher, CEO of Strategic Book Publishing and Rights Agency
(PRWEB) September 19, 2016
What if Adolf Hitler's suicide in the waning days of World War II was really just an elaborate scheme to cover up his escape? This chilling novel combines masterful research on the part of the author with a thoroughly compelling plot.
It's been over 70 years since the reported suicide of the Fuhrer in a German bunker near the end of the war. Yet there are still those who believe Hitler escaped, patiently waiting to wage a new world war on mankind. What if he travelled across the globe – as well as through time – to wage a modern-day war that would finally give him all the power he always wanted?
"Hexenkessel: The Second Coming" refers to the German world hexenkessel, a witch's caldron, and an apt title for this story that combines historical research with the possibilities of time travel and the fanatical plotting by a man so evil that he seems impervious to death. They say truth is stranger than fiction.
Watch the video at: https://youtu.be/nGS-a679zX0
"This novel is not only a fascinating read, but presents a theory that is all too credible, mixed with the anything-is-possible world of science fiction. We are thrilled to announce its release," said Robert Fletcher, CEO of Strategic Book Publishing and Rights Agency.
About the Author: Peter Thomas McDougall runs an Aboriginal health centre in Tasmania. An accredited researcher with the Australian War Memorial and the National Archives, this book required detailed research on time travel, quantum physics, nuclear physics, the Holocaust, and the life and times of Adolf Hitler. "I commenced researching the death of Adolf Hitler for a history Ph.D. The crucial part of the research was to obtain copies of the Russian autopsy reports on the bodies of Adolf Hitler and Eva Braun. Coupled with witness testimonies, there is very little doubt that Hitler did not die in the bunker as we in the West believe."
HEXENKESSEL: THE SECOND COMING (ISBN: 978-1-68181-421-6) is now available in hardcover for $50.95 and can be ordered through the publisher's website:
http://sbprabooks.com/PeterThomasMcDougall or at Amazon.com or Barnesandnoble.com.
WHOLESALERS: This book is distributed by Ingram Books and other wholesale distributors. Contact your representative with the ISBN for purchase. Wholesale purchase for retailers, universities, libraries, and other organizations is also available through the publisher; please email bookorder(at)sbpra.net.