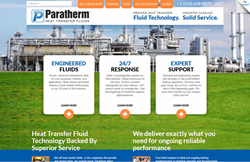 King of Prussia, PA USA (PRWEB) September 19, 2016
Paratherm — Heat Transfer Fluids today announces the introduction of its newly redesigned website. Since 1997, Paratherm's website has offered customers a convenient platform to connect and obtain information. Although the website has always been functional, we are excited to announce the launching of a newer, sleeker, easier-to-use website to better serve Paratherm's audience of customers and fluid specifiers. The new website is designed to be more visually appealing, while being more user friendly. The site can be conveniently accessed via desktop computer, laptop, tablet or smartphone.
The new Paratherm website is able to perform many of the same duties as Paratherm employees in assisting hot-oil system users, and others interested in general and specific answers to frequently asked questions about indirect heating technology. The content-rich website is useful for fluid customers, OEM design engineers, process managers, fluid specifiers and maintenance professionals. It educates users on important technical details of Paratherm heat transfer fluid products, including: product data, safety data, and physical and thermal properties. The website also offers technical advice regarding hot-oil system safety, maintenance and reliability—as well as detailed information about hot-oil system cleaning products and an oxidation inhibitor additive package.
Sections of the website also cover Paratherm's laboratory-based services: a fluid maintenance program, standard fluid analysis and quick analysis. Other featured services include application troubleshooting and thermal fluid system training for high temperature fluids, low temperature fluids, heating and cooling fluids and food-grade heat transfer fluids.
At Paratherm, we proudly offer timely responses to any sales or technical inquiries, ready inventory and fast shipments when obtaining the product is critical such as in emergency situations. Paratherm works with industries such as: biodiesel, chemical processing, asphalt paving, refining, gas processing, industrial laundry, plastics, food and solar.
When you need application support, fluid analysis, or hot-oil process troubleshooting, you can contact any of the professionals on our team. Feel free to explore all of our new features and keep in mind that representatives are available 24/7 at +1 610-232-7871, or you can visit the new website where you'll find a quotes/inquiries form to fill out.
About Paratherm — Heat Transfer Fluids
Founded in 1988, Paratherm has become a leading manufacturer of heat transfer fluids, system cleaners and related additive products. The firm offers a range of products (currently ten fluids, three cleaners, and an oxidation reinhibitor additive) covering temperatures from -127°F to +675°F. Paratherm serves a diverse number of industries including the chemical industry, food processing and plastics manufacturing.
Paratherm's efforts have long been focused on their clients' applications, systems and operations with expert assistance and quick turnaround being top priorities. Orders can be filled quickly and in urgent situations very quickly, because the company stocks product in half-a-dozen North American locations and globally in Europe, South America and Asia.
Since December 2012, Paratherm has been a business of CPI Fluid Engineering, a division of The Lubrizol Corporation.
For information on Paratherm products for hot and cold processing applications – contact Andy Andrews