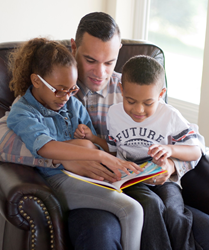 KENNEWICK, Wash. (PRWEB) September 19, 2016
The Children's Reading Foundation national headquarters this week launches the inaugural Read with a Child Week, September 18-24, 2016. Nationwide reading events are planned throughout the week to help emphasize the vital importance of daily reading with children from birth through third grade.
During Read with a Child Week, families are encouraged to recommit to daily reading with children for at least 20 minutes to prepare every child for success in school and in life.
"Reading together every day is enormously important during a child's earliest years of birth through third grade to create the necessary brain connections essential for all future learning," Rick Donahoe, CEO of the foundation said. "We know parents and caregivers are a child's first and most influential teachers. Engaging families during a child's early learning years is paramount."
In its 20th year, the foundation's mission remains to ensure all children learn to read early and well, specifically on grade level by the end of third grade. Reading is the most crucial academic skill because it is the foundation for learning.
Reading with a child for 20 minutes every day starting at birth has significant additional benefits including:

Increasing the number of children acquiring the essential early literacy skills required for entering kindergarten prepared and eager for school.
Developing socially and emotionally confident children who have strong bonds and are at pace with their peers.
Lasting, positive outcome for children, families and communities.
About The Children's Reading Foundation: The national nonprofit was founded in 1996 with the vision that every child learns to read at grade level by the end of third grade, thereby reaching his or her full potential in school and life. The foundation delivers national programs focused on reading skills and school readiness for children birth to age 8. The Children's Reading Foundation helps establish local chapters in communities across the country. The headquarters are in Kennewick, Wash. Learn more at http://www.ReadingFoundation.org.
###