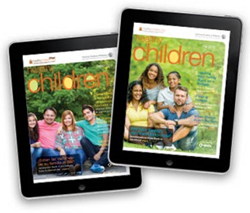 (PRWEB) September 20, 2016
HealthyChildren.org, the official American Academy of Pediatrics (AAP) website for parents, has released a new issue of Healthy Children, a digital-only magazine for smartphones and tablets. Available in English and Spanish, the new issue focuses on good health for the whole family. Here are highlights of what's included.
"Are Your Family's Vaccines Up-to-date?: Immunizations From Birth to Adulthood" features easy-to-read versions of the 2016 recommended immunization schedules from the Centers for Disease Control and Prevention.
"Feeding Kids Right on a Budget" offers tips on how families can plan and shop for healthy foods on a budget. There also is a list of resources, such as the USDA Nutrition Assistance Programs, for families in need of extra help.
"Finding Fitness: Resources to Help Families Get Active" explains why regular physical activity is good. Also included are tips on how families can overcome common obstacles. Print out and make copies of the physical activity plan for each family member. Browse the many programs and activities that offer options for all families.
"When Things Aren't Perfect: Caring for Yourself and Your Children" highlights what experts have learned about the long-term effects of stress during childhood on adulthood. Links to videos by Ken Ginsburg, MD, FAAP, author of Building Resilience in Children and Teens: Giving Kids Roots and Wings, 3rd edition, cover many topics on how to build resilience in children and teens. Also learn more about what pediatricians are doing about poverty and child health.
"Your Child's Mental Health: When to Seek Help and Where to Get Help" explains why a child's mental health is as important as his or her physical health.
Parents may download the e-magazine on iTunes or Google Play stores. The digital magazine is also available as a PDF at http://www.HealthyChildren.org/e-magazine
###
About HealthyChildren.org
The only parenting website backed by 66,000 AAP member pediatricians, HealthyChildren.org offers trustworthy, up-to-the-minute health advice and guidance for parents and caregivers, along with interactive tools and personalized content. Registered users enjoy a customized home page that features articles geared to the ages of their children as well as a free bi-weekly e-newsletter. The site also offers a Find a Pediatrician service, an Ask the Pediatrician tool, the KidsDoc Symptom Checker, and more than 5,000 articles on children's health.