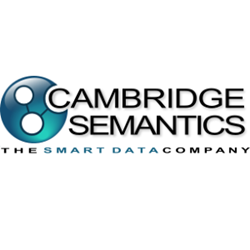 (PRWEB) September 19, 2016
What:
Executive team members of Cambridge Semantics – the leading provider of graph-based Smart Data discovery and exploratory analytic solutions – will be speaking at the Enterprise DATAVERSITY: Data Strategy and Analytics Forum in Chicago.
Vice President of Engineering Barry Zane will speak on a panel titled "Fireside Chat: Getting Big Data Into the Board Room" on Tuesday, September 20th. The discussion will focus on the challenges that Chief Data Officers are facing in global organizations as data becomes exponentially more valuable to 21st-century businesses.
In addition, Chief Technology Officer Sean Martin will join Barry for a presentation on "Smart Data Lakes: Revolutionizing Enterprise Analytics" on Wednesday, September 21. They will discuss how new developments in big data technologies have significantly impacted the proficiency of contemporary analytics – the most profound of these involving the deployment of Cambridge Semantics' Smart Data Lake solution.
When:
Fireside Chat: Getting Big Data Into the Board Room
Tuesday, September 20, 2016 at 4:15 - 5:15 p.m. CT
Smart Data Lakes: Revolutionizing Enterprise Analytics
Wednesday, September 21, 2016 from 9:30 - 10:15 a.m. CT
Where:
The Drake Hotel
140 East Walton Place
Chicago, IL 60611
Who:
Sean Martin is chief technology officer at Cambridge Semantics. He has been on the leading edge of Internet technology innovation since the early nineties. His greatest strength has been the identification and pioneering of next generation software & networking technologies and techniques. Prior to founding Cambridge Semantics, Sean spent fifteen years with IBM Corporation where he was a founder and the technology visionary for the IBM Advanced Internet Technology Skunkworks group. Sean has an astonishing number of Internet "firsts" to his credit. These include inventing and implementing both IBM's first Web application server and content-manager, WOM, along with its distributed Web application hosting environment, the Womplex, not to mention a number of other important web site scaling and load balancing technologies.
Barry Zane is vice president of engineering at Cambridge Semantics. He brings substantial product development experience and industry expertise in building large-scale products for data analysis. Prior to Cambridge Semantics, Barry was co-founder and CEO of SPARQL City where he served as VP of Technology, whose high performance scalable graph database technology has been acquired by Cambridge Semantics and integrated within its Smart Data Lake and other offerings. Previously, Barry was co-founder and CTO of Paraccel, a high performance scalable relational database system which provides the basis for Amazon Redshift. Paraccel was acquired by Actian Corporation as the Matrix product line. He was a co-founder and VP of Technology & Architecture at Netezza, which after a successful IPO, was acquired by IBM. Before Netezza, Barry was CTO of Applix, Inc. Applix was also later acquired by IBM.
About Cambridge Semantics
Cambridge Semantics (CSI), the Smart Data Company, is an enterprise smart data discovery and exploratory analytics company. It enables customers and partners to rapidly configure and deploy customized Smart Data Lake use cases based on its award-winning Anzo Smart Data Lake ® product.
IT departments and business users gain better understanding and data value through the semantic linking, analysis and management of diverse data whether internal or external, structured or unstructured. The Anzo Smart Data Lake solutions are delivered with increased speed, at big data scale and at a fraction of the implementation costs of using traditional approaches.
The company is based in Boston, Massachusetts.
For more information visit http://www.cambridgesemantics.com or follow us on Facebook, LinkedIn and Twitter: @CamSemantics.
Media Contacts:
Mike Kilroy/Lora Wilson
Global Results Communications for Cambridge Semantics
cambridge(at)globalresultspr(dot)com
+1 (949) 608-0276