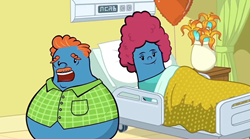 "Our main goal is to use Hugibo and his story to be able to raise money for kids on the spectrum."
Nashua, NH (PRWEB) September 20, 2016
With the episode one release date approaching, Yogibo LLC has officially announced details on their new animated series Hugibo.
Yogibo's products have been proven to be extremely beneficial for kids on the spectrum, providing great positive feedback and sensory information. Hugibo was introduced in July 2016 as the official main character of the brand. Yogibo launched Hugibo as a character shaped bean bag chair with arms as part of their award winning furniture line to incredible reception, allowing anybody to benefit from a hug. The company is continuing its transition from just a home décor company to an entire lifestyle concept.
Hugibo's first season will premiere as of Tuesday, September 20, at the show's new website, Hugibo.com. The first season is comprised of ten episodes that are three to five minutes each with one releasing every week. The episodes will also be available simultaneously on Facebook, YouTube, and more. CEO Eyal Levy decided to develop the story of Hugibo, who he is, where's he from, and what he's all about. "The story is geared towards everybody. It's a kind of humor that both kids and adults can enjoy. Our goal is to bring a positive message to each episode without it being cheesy." Hugibo comes from another planet, landing on Earth, and meets several characters who each have a specific problem that Hugibo tries to fix. "People have been asking us to increase the Hugibo brand and awareness, so we're using awesome animation to accomplish this."
"Our main goal is to use Hugibo and his story to be able to raise money for kids on the spectrum," says Levy. In October 2015, Hugibo was used alongside a campaign for autism awareness with Yogibo, who created the largest bean bag in the world for the cause, which was confirmed by Guinness World Records.