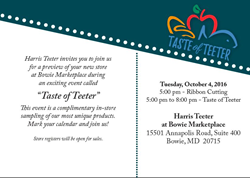 Matthews, N.C (PRWEB) September 20, 2016
Harris Teeter is proud to welcome shoppers to its Bowie Marketplace location on Tuesday, October 4 at 5 p.m. as the company celebrates its grand opening with a ribbon cutting ceremony and Taste of Teeter sampling event. This event is a complimentary, in-store sampling of Harris Teeter's most unique products. Store registers will be open for sales.
"Harris Teeter is thrilled to be joining the Bowie community," said Danna Robinson, communication manager for Harris Teeter. "We are looking forward to getting to know our Bowie neighbors, and we cannot wait for shoppers to see their brand new Harris Teeter."
In each of its stores, Harris Teeter strives to offer customers an excellent shopping experience, which begins with customer service and features high-quality products, variety and selection. Harris Teeter also works to be a true community partner by supporting local schools and youth sports organizations, among other non-profit organizations.
Store Address: Bowie Marketplace- 15501 Annapolis Road, Suite 400, Bowie, MD 20715
Grand Opening Date: Tuesday, Oct. 4, 2016
Grand Opening Time: 5 p.m., ribbon cutting; sampling event immediately following
Store Hours: 24 hours/7 days a week
Store Square Footage: 52,000
Check-Out Lanes: 8 checkouts and 4 express checkouts
Pharmacy Hours: Mon.-Fri. 9 a.m.-9 p.m.; Sat. 9 a.m.-7 p.m.; Sun. 10 a.m.-6 p.m.
Store Features and Departments
Full-service Butchers Market with Rancher Beef, HT Reserve Angus Beef and USDA Certified Very Tender Beef • Fresh Store made sausage and burgers • Full-service Fishermans Market • Shrimp Party Trays • Farmers Market Produce • Produce Party Trays • Fresh Fruit Bar • Salad Bar • Gift Basket Program • Full-Service Floral and Custom Floral Arrangements • Full-service Fresh Foods Market Deli/Bakery • Sushi • Self-Serve Olives • International Cheeses • Custom Cakes and Ice Cream Cakes • Sub Shop • Made to Order Sandwich Program • Artisan Breads • Boar's Head Meats and Cheeses • Fresh Made Pizza • Party Trays • Home Meal Replacements • Natural and Organic Foods • Expanded Specialty Foods •Drive-Thru Pharmacy • Free Blood Pressure Testing • Private, Professional Pharmacist Consultations • Drug Interaction/ Allergy Screening • Double Coupons • Club 60 Discount • Carryout Service • Parcel Pick-up • USCAN • Western Union • Coinstar • Rug Doctor • Express Lane Online Shopping • Red Box DVD Rental Kiosk • Starbucks •Sit-down eating area • ATM