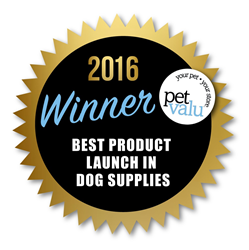 "We set out to create powerful and safe cleaning products that pet parents can rely on to make their lives easier every day," said Macon Brock, president and founder for Skout's Honor
Irvine, Calif. (PRWEB) September 20, 2016
Skout's Honor, the line of Better, Faster, Stronger solutions to everyday pet stain and odor problems, is excited to announce that it was named the WINNER for "Best Product Launch in Dog Supplies" by Pet Valu, one of the fastest-growing retail chains in the world.
In April 2016, Pet Valu began carrying the complete Skout's Honor product line, which includes a Stain & Odor Remover, Urine Destroyer, Odor Eliminator, Litter Box Deodorizer, Patio Cleaner & Deodorizer and Cat Urine & Odor Destroyer. To date, the line has exceeded initial expectations and is proving to be a successful brand for the international pet specialty retailer.
"This is an award voted on by Pet Valu's category management team and we chose Skout's Honor because it offered a variety of criteria including great packaging, new innovation and it also met and exceeded our sales goals," said Derek Ritson, category manager in pet supplies for Pet Valu. "We are pleased with the partnership we have formed and are excited to continue to grow the business together."
Pet Valu is a specialty retailer of pet food and pet-related supplies with more than 770 stores across Canada and the US. Pet Valu offers more than 7,000 products, including a broad assortment of premium, super premium and holistic private label brands scientifically developed by internal nutritionists. Pet Valu is currently the exclusive retailer in Canada for Skout's Honor products.
"From the very beginning, we set out to create powerful and safe cleaning products that pet parents can rely on to make their lives easier every day," said Macon Brock, president and founder for Skout's Honor. "It is an honor to be recognized by one of the world's leading retailers in pet specialty with an award that directly acknowledges the efforts we've made to launch a brand new product line that meets that goal."
Skout's Honor is Better, Faster, Stronger than other products in its category, due to a proprietary odor eliminating technology and BioKore™ - a revolutionary green cleaning technology that breaks down and lifts away stains on contact. Both ingredients are biodegradable, bio-renewable and non-toxic – offering the most powerful and easy-to-use cleaning solutions on the market, while still being safe for use around pets, family and home.
The company's eco-friendly approach is coupled with a socially conscious business model via its Skout's Paw Pledge – a program that donates a day's worth of food to a shelter animal with every product sold.
About Skout's Honor
Skout's Honor is a company based in Irvine, Calif. that offers BETTER, FASTER, STRONGER cleaning solutions to everyday pet stain and odor problems, including: Stain & Odor Remover, Odor Eliminator, Urine Destroyer, Litter Box Deodorizer, Cat Urine & Odor Destroyer and Patio Cleaner & Deodorizer. Founded by a team of animal lovers and proud pet owners, the company created its "Skout's Paw Pledge," and donates a day's worth of food for a shelter animal in need with every product sold. For more information on the products and for specific retailers, please visit SkoutsHonor.com
Connect with us on Facebook or Instagram
###