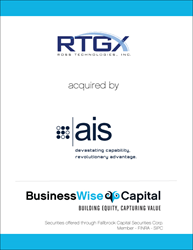 Bethesda, Maryland (PRWEB) September 21, 2016
BusinessWise Capital, LLC ("BWC") is pleased to announce the acquisition of Ross Technologies, Inc. ("Ross"), a leading cybersecurity firm focused on serving the US Intelligence Community ("IC") by Assured Information Security, Inc. ("AIS"). This transaction provides AIS with strategic access to key agencies within the IC, while further expanding and diversifying its portfolio of cyber related assets, cleared personnel, and contract vehicles.
The acquisition of RTGX will allow AIS to enhance its ability to expand its service offering and customer base. We believe this transaction demonstrates several key trends in the government contracting M&A environment:

Highly specialized solutions providers continue to generate significant interest from corporate buyers and private equity firms;
Currently, the interest rates are at an historical low, which has increased the appetite of private equity firms and corporate buyers to deploy funds towards M&A related activities;
The capital markets continue to support synergistic M&A transactions led by a seasoned management team.
BWC is a boutique M&A advisory firm to middle-market government contractors. BWC provides a full range of M&A, valuation, and corporate finance to enable our clients to achieve their growth and liquidity objectives.
Our exclusive focus on the government contracting market, extensive experience in M&A, and existing relationships with key strategic players allows us to become a natural partner to our clients.
Securities offered through Fallbrook Capital Securities Corp.
Member - FINRA - SIPC