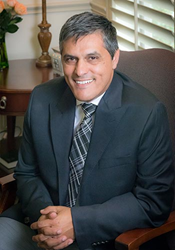 McKinney, TX (PRWEB) September 20, 2016
Dr. Marco Cueva, an acclaimed dentist, is now accepting new patients with receding gums in McKinney, TX, to his Allen, TX practice with or without referrals for the Chao Pinhole® Surgical Technique, which is a modern and minimally invasive approach to treating gum recession. This procedure offers efficient results, shorter healing periods and fewer visits to the dentist, compared to other gum recession techniques. Just as importantly, this treatment provides relief from various side effects and risks associated with gum recession.
Patients who live with receding gums in McKinney, TX, may face numerous unwanted symptoms and complications. Severe gum recession can leave the teeth exposed and unsupported, resulting in side effects such as tooth sensitivity and mobility, and eventually tooth loss. Gum recession can also adversely affect the appearance of a person's smile. Professional treatment can help address these issues, and it also can reduce the risk that patients will develop cavities below the gum line, which is a complication that can lead to gum disease.
As a highly experienced dentist, Dr. Cueva understands the importance of using the most advanced techniques available, which is why he offers the revolutionary Chao Pinhole® Surgical Technique. During this procedure, Dr. Cueva makes a small pinhole incision in the receding tissue before gently restoring the tissue to a healthy position and securing the placement with strips of collagen. This approach eliminates the need for gum grafting, scalpels or sutures, allowing for a more comfortable procedure. Often, Dr. Cueva can treat recession in a single appointment, sparing patients from unnecessary follow-up visits to a dentist. Patients also can typically expect a lower risk of discomfort, infection and other complications afterward.
People who would like more information about the Chao Pinhole® Surgical Technique and its health benefits are encouraged to visit Dr. Cueva's website, http://www.perioexcellence.com. Patients who are ready to schedule consultations regarding treatment for receding gums in McKinney, TX, may do so through the website or by directly calling Dr. Cueva's cutting-edge practice at (972) 704-1101.
About the Practice
Periodontic Excellence is a periodontal practice offering personalized dental care for patients in Allen, TX. Dr. Marco Cueva is a Board Certified Periodontist and has extensive education in periodontology and dental implantology. He attended the Federal University of Parana where he received his Doctor of Dental Surgery Degree, and completed three additional years of training at Camillo Castelo Branco University, before training at Baylor College of Dentistry. Dr. Cueva also earned his Masters of Science Degree in Oral Biology with a certification in Periodontics from Texas A&M University Health Science Center- Baylor College of Dentistry. Dr. Cueva offers a variety of services, specializing in dental implants, All-on-4® and the minimally invasive Chao Pinhole® Surgical Technique for treating receding gums. To learn more about the services offered at Periodontic Excellence, please visit the website at http://www.perioexcellence.com or call (972) 704-1101 to schedule an appointment.