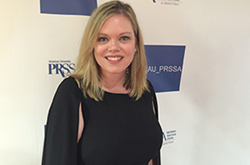 At MCI USA, we have a deep experience in producing awards programs, so being the recipients of an award is especially meaningful.
McLean, VA (PRWEB) September 21, 2016
MCI USA is proud to congratulate three senior staff members who have been honored for their outstanding professional accomplishments. Erin M. Fuller, FASAE, CAE, President, Association Management & Consulting, was inducted into the American University's Public Relations Student Society of America's (PRSSA) Hall of Fame. John Chen, CAE, Director of Marketing, and Emily Reineke, Senior Associate, were selected by the Association Forum of Chicagoland and USAE weekly newspaper as two of the association community's forty most accomplished and up-and-coming professionals under the age of forty.
Fuller was honored at the first ever American University Living Legends awards show on September 15. She participated in an insightful panel with AU alumni who shared their experiences and accomplishments in the communication and entertainment industries. PRSSA recognized Fuller for both her ongoing involvement with the American University and her impactful career in nonprofit management. She leads MCI USA's team of 100 nonprofit management professionals, and is a noted expert on nonprofit management and women's issues. Fuller served as the president of the American University Alumni Association Board, and she also received the 2015 Alumni Eagle award for outstanding service to the university, as well as the 2011 Alice Paul Award from American University's Women and Politics Institute for her work advancing women's causes.
"At MCI USA, we have a deep experience in producing awards programs, so being the recipients of an award is especially meaningful. It is such an honor to be recognized by the talented student members of American University's PRSSA, especially within a class of such accomplished professionals," said Fuller. "I'm also very proud to congratulate John Chen and Emily Reineke on being named to the 2016 class of Forty Under 40. It's particularly exciting for MCI USA to have two of our colleagues recognized by the association community for their accomplishments and acumen."
John Chen, CAE, Director of Marketing, builds and manages marketing, membership, and social media strategies for MCI USA's nonprofit clients. Chen also currently serves as the Managing Director for the Public Media Business Association. Prior to joining MCI USA, Chen served as the Communications & Marketing Manager at the National Association for Law Placement (NALP) and as Publications Manager for the International Society for Performance Improvement (ISPI). Chen is active in ASAE, and is an alumnus of their Leadership Academy and NextGen Association Summit Program. He recently completed a three-year term on their Communication Section Council, and he currently serves on the CAE Exam Committee. Chen was named one of Association Trends 2015 Young and Aspiring Professionals.
Emily Reineke, MA, Senior Associate, serves as Managing Director of the International Technology Law Association (ITechLaw). Reineke previously served as Conference and Operations Director for NASPAA: The Network of Schools of Public Policy, Affairs, and Administration. In this role she launched an international student competition which was recognized as an ASAE 2015 Power of A Silver Award recipient. She is active in ASAE and is currently serving on the National Capital Area Advisory Council. She is an alumna of the 2015 NextGen class and served as Chair of the 2016 NextGen Selection Committee.
Chen and Reineke join two MCI USA colleagues who have previously been recognized as Forty Under 40. Alison Teitelbaum, MS, MPH, CAE, associate vice president, was honored in 2014. MCI USA vice president Amy Lestition, CAE, was in the class of 2013.
ENDS
For more information please contact:
Andy Schwarz, CAE
Associate Vice President, Public Relations
andy.schwarz(at)mci-group(dot)com
+1 703.506.3260
ABOUT MCI USA
MCI USA (formerly Coulter Companies) helps companies and associations to strategically engage and activate their target audiences, building the dedicated online and offline communities they need to strengthen their brands and boost their performance. Headquartered in the Washington, DC area with offices in New York and Miami, MCI USA is proudly recognized by the American Business Ethics Awards as one of the top companies in the United States for vision, leadership and integrity. Through the merger of MCI and Coulter Companies in 2015, MCI USA serves as the United States platform for the largest global provider of strategic engagement and activation solutions. This union results in a workforce of more than 1,850 professionals in 60 cities and 32 countries, accelerating MCI's ability to work global and deliver local to senior influencers and decision-makers in associations, corporations and governments. Find out more at http://www.mci-group.com/usa.